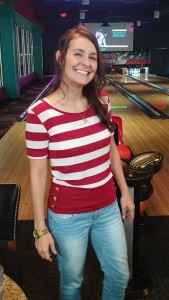 The FBA has been through a lot over the last year. We've had some changes to our team, restructured some of our departments, and we've brought in a lot of new faces. These changes are the best for everyone and we as a company are looking forward to the future and what that will mean for our members. We have so many exciting things planned before the end of the year and we are looking forward to showing them to you.
The pace at which we've expanded our new FBA Members site in the 7 months since its launch has been astounding.  In that time we've developed a complete franchise resales tool, a social dashboard, and a complete suite of collaboration tools, customized our franchise comparison reports, customized a marketing road map, expedited territory checks, implemented a client support database and numerous automation features, and completed about a zillion other tweaks and enhancements that are so seamless you won't even notice them.
That's not to mention the growth that the FranVest America Program has seen. To date, we have opened 18 (4 more in construction) Fantastic Sams salons in California, North Carolina, and Michigan producing over 162 new jobs! We've established exciting new international partners and are hard at work spreading the word of this exciting program. Each month we are seeing our active investor pool grow with investors from Brazil, China, and India. We've also begun expanding our influence into other countries.
Going through this amount of change and growth can be stressful for everyone and it's important to take a moment to take a look around just be happy with where you are today. It's in these moments where you can reflect upon the different paths the journey has taken and be appreciative of those moments. As a company we are extraordinarily blessed. We have assembled an outstanding group of people and together have transformed the entire landscape of Franchise Consulting.
Prior to the FBA there was no system where you input your client's detailed information and get a franchise that would match that criteria. There was no central communication between brokers – or the desire of groups to even allow Franchise Brokers to communicate with one another! There was no annual conference where franchise brokers from any affiliation could come together with each other and franchisors to share best practices and network. Franchise Consultants were on their own with little help from the groups they had joined.
This was the case just 8 years ago, and we couldn't be more proud of the accomplishments we've made since then.
The leadership of the FBA felt it was important to take some time for our entire company to get together and just have fun. We had all worked so hard and deserved to take some time to just laugh and relax. What we decided to do was to visit a brand new bowling alley located in the Fashion Square Mall across the street from our offices. Together we shared a lunch, picked out our shoes, and selected our tools to smash the pins apart in a blaze of glory! We split into two teams who would bowl to the death until we had a winning team and top 3 performers.
We can all be pretty competitive and it was fun just to watch each other let loose. Some of us, you could tell, had a little more experience than others. Megan Kaczmarek from Franchisor Relations, surprised everyone with her crazy good skills and kept everyone on their toes. As we began to come to the end of the 9th frame one team was the clear winner so now the big excitement was on WHO WOULD BE THE FBA BOWLING CHAMPION?!?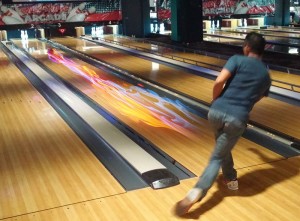 There were 4 people in a close battle to be on the leader board. Me, (I'm Chris Wall), Megan Kaczmarek, Pete Sorensen from Business Development and Joel Cruzada from our Web & Creative department.
I stood up to the lane on my 10th frame and ended up missing the spare by two pins. Ack! This wasn't the best situation, but I was confident I could hold my own. It looked like I had locked the 2nd place with 87 points so I stood back and waited for the glory to come raining down on me. However, in his 10th frame, Pete got up and bowled me right out of the 2nd spot by 2 points! I couldn't believe it! Now I was #3. Not #1…not quite #2, but a respectable #3. I could live with that.
Then #TheJoel (our internal Nickname for Joel) got up and nailed a strike! This changed the course of the game earning him two more rolls! He then threw enough to place him as our #2 winner by just 1 point. So there it was in black and white, we had our winners, #1 Megan (92), #2 Joel (90) and #3 Pete (89).
There was a very real excitement as we all congratulated each other on a job well done and laughed about the experience. It really was fun to just take that time and enjoy being ourselves. I say it all the time, but we really do have a great team. Now I know who the best bowlers are and I'll try to be on their team next time!