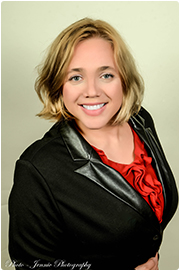 Franchise Consulting is an uncommon career because, unlike most businesses, there isn't a one-size-fits-all way to run it. Looking back at the 2015 FBCE's Award Winning Franchise Brokers, each of them are very successful, yet each of them runs their businesses very differently from one another. Looking closely at the details, though, there is one thing they all have in common – each of them focuses on what they're good at.
This concept of where to apply your focus applies to all entrepreneurs. So, you have to ask yourself, what are the skills that you possess that have helped you succeed? When do you feel you're strongest?
In each of our professional careers we've all committed to become great at something. These experiences have developed our skills and they are what separates us from our peers and makes us unique.
Cristiana Jones, the FBA Visionary of the Year, mastered this practice a long time ago. She has proven that she has clearly identified her target client, developed a plan, and focuses 100% of her efforts on her strengths to achieve her goals.
2015 Visionary of the Year Cristiana Jones from My Franchise USA
Originally from Italy, Cristiana immigrated to the US the first time in 2002. She has a  two Masters degree in engineering and robotics from Ecole Centrale Paris and Politecnico of Turin, but never actually worked in that field. Instead, she spent 20 years in the cosmetic industry in different roles like Director of Quality and Packaging Development, Manufacturing and New Product Development. Her career meant she had to work long hours away from her family and frequently traveled. Through hard work Cristiana did very well with her career, but being a mother of a young child she was ready for something different.
Her strengths are that she's a quick learner and a born networker. Cris is able to break down and understand the nuts and bolts of things and be able to connect these details to the people within her network. She's also been through the immigration process, and understands that others are searching for their American Dream.
But, how does one go from a masters degree, to building a career in the cosmetic industry, to now helping others realize the American Dream?
From Corporate Life to Franchise Guru
When Cris decided to leave her corporate life she knew she wanted the flexibility that being an entrepreneur provided. So she started her search by looking into franchises. Shortly into her search Cris was contacted by a franchise broker – who wasn't with the FBA.
"I had an initial call with her and gave her a few ideas about the types of franchises I thought I would like. At the time, though, I didn't have any idea what was out there or what would be the best franchise for me! I was hoping that this person could help me understand my options, but she didn't have any of the tools and resources that are available to FBA members."
"I was passed on to several franchisors and forgotten about for weeks. During this time, I got a little further along in the process but didn't really feel like the franchises I was talking to were right for me. I remember when one of the franchisors I was talking to gave me an FDD (Franchise Disclosure Document) and asked me to sign an acknowledgement. I had no idea what they were asking me to sign and it totally freaked me out."
"When this franchise broker did call me I felt like she was just checking in on a commission. I didn't even understand what her role was in this process so I simply asked her what she did. The broker refused to really explain and that's when I lost all trust in her. She was nice, but was not helpful at all."
"My husband said, you can do a better job than this! Which is when I felt a spark of excitement and started researching and eventually came across the franchise broker opportunity. I talked with several groups that are out there but felt that the FBA was the best. I joined because of the immigration program. I spoke with people in the industry and read many reviews on the internet. Everything told me that FBA had the best support that is out there."
Cristiana trained with the FBA in April of 2014, but was still employed.  How will she find qualified candidates to work with? What happens next? How does someone fresh out of franchise consultant training turn into the Visionary of the Year?
Find out in Part 2 of Cristiana Jones' story "Finding Your Niche and Establishing Your Franchise Network"