A franchise where you can get a Mr. Clean shave along with a side of entertainment
So you might be wondering what a "Mr. Clean" is. Well, at Diesel Barbershop they describe it as a service where they will "make you as smooth as a newborn baby's bottom on a fresh spring day. A full face shave and a full head shave in one sitting".
Or maybe you're the kind of guy that prefers "The Diesel Plus". An awesome haircut, neck shave, shampoo, scalp massage, hot towel face treatment and a relaxing should massage. After all, you deserve it!
Whatever a man's grooming fancy is, Diesel Barbershop can serve it up all with a local craft beer and side of entertainment. Before, during, or after clients are welcomed to hang out and play a hot game of Donkey Kong to get their competitive juices flowing, watch some TV, or simply enjoy the music.
New Diesel Barbershop Location near you- Thanks to FBA Franchise Broker!
The look and feel of Diesel Barbershop is part barbershop, part salon, part old school record store, part mechanics garage, part tattoo shop, and part vintage arcade. This is exactly what appealed to Sunil, Sangeeta, and their son Kunal when their FBA broker, Corey, introduced the concept to them.

After going through Diesel Barbershops discovery process, the family visited the San Antonio location to get a fresh haircut. Sunil recognized quickly that he wanted to be part of the Diesel brand and what Diesel has created in the barbershop space. They were immediately drawn to the infectious culture of Diesel. Once they went back through San Antonio for discovery day, well as they say, "the rest is history!" They were thoroughly impressed.
We're pleased to share that Sunil and Sangeesta will have the pleasure of opening their initial barbershop up in Houston later this year with the hopes of opening many more in the future.
Interested in owning a Diesel Barbershop?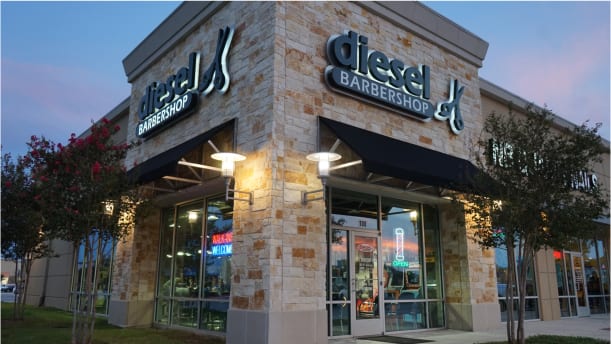 Diesel Barbershop is growing by leaps and bounds. Just this past year they sold over 100 franchises. They have a solid Item 19 and franchise support system
Diesel is looking for motivated individuals who are prepared to take their financial future into their own hands and create successful Diesel Barbershop franchises; people who have the ability to set goals and strive to achieve them; people who are able to learn and execute a precise business plan; people that can lead and motivate employees to achieve short and long-term goals. To be a successful Diesel Barbershop Franchisee, you must be ready to invest in yourself.
Diesel Barbershop Franchisees can come from all walks of life. Franchisees should be smart, successful, and motivated business leaders. Having a disciplined acumen for maximizing opportunity and knowing how to follow a system to run a business. Franchisees should be committed to building productive teams and relationships. Knowing how to inspire and how to bring out the best in other people is a key to success for all franchisees.
As a Diesel Barbershop Franchise Owner, you will hire managers to oversee the managerial duties of a barbershop. Diesel Barbershop Franchise Owners may or may not be working in the shop on a daily basis and often times may have a full-time job and/or other investments that they are managing.
This is a Train the Trainer Model: Diesel Barbershop Franchise Owners will be trained to manage the manager as the CEO. The shop manager will be trained to run the shop, implement the business model and work with the owner to maximize the profit of the shop. The owner will access the shop's Point of Sale System (POS) to help implement the sales and inventory control system. The shop managers will receive comprehensive training in all operations of a Diesel Barbershop Franchise, which is designed to trickle down to all employees working at any Diesel Barbershop location.
Minimum financial requirements include $100k liquid cash and a $450k minimum net worth. Total investment range: $223,500 – $349,500
We have access to all sorts of funding options. If you would like to discuss your options in business ownership give FBA a call today at 888-317-7429!