SPENGA Fitness Franchise is Ready to RIDE, REP & REVIVE with Seven Locations Coming to Virginia
Jeff, who has been a business owner for 26 years, has a strong background in fitness and franchising, so it was no surprise that a unique fitness franchise like SPENGA caught his eye right away. He had noticed the fitness shift from big box to boutique, and knew that SPENGA was the right place to be at the right time. Jeff was seeking a fitness concept where he and his son Jared could go into business together. Jared, who is very entrepreneurially spirited, will one day be running the full-time studio operations, so they headed to Discovery Day in Naperville, IL together to learn more.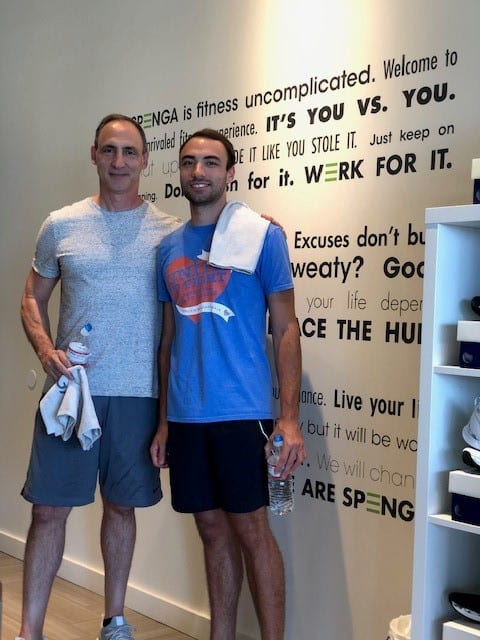 Already loving the brand, they joined the two-day event where they were able to experience an amazing workout and see the fitness franchise brand come to life. Beyond the meetings, Discovery Day was a true SPENGA experience: touring a location, meeting the studio's franchisee and innovative leadership team and working out SPENGA style. SPENGA'S differentiation, strategically minded leadership team and buzzworthy workout made for an easy decision to join the SPENGA family.
"Working with Carin now between several candidates, she has been exceptional," said FBA Broker Cary Schneider. "With Jeff, she was able to generate enthusiasm and maintain engagement while overcoming territory and other logistical challenges. I now specifically seek out other candidates to introduce to SPENGA, in part because of the anticipated benefit of Carin's involvement."
SPENGA is known as a "fitness experience" combining three essential elements of fitness to create what is simply known as the best workout ever. This concept combines spin, strength and yoga in a 60-minute session. Each session is designed to help improve endurance, strength and flexibility, all in one hour.
SPENGA is uniquely positioned in the booming boutique fitness segment with first mover advantage. Unlike any studio of its kind, SPENGA combines three essential elements of fitness to create what is simply known as the best workout ever. Interested in learning more? Contact spengaleads@franchisefastlane.com.
Congratulations to Cary Schneider of The Franchise Brokers Association and Carin Skowronsky and Bobby Brennan of Franchise FastLane!
Interested in reading more about fitness franchises? Read about 9 Round.
Ready to find your franchise? Learn why working with a franchise broker makes all the difference here.