Fresh and Ethical LemonShark Poke is the Quick Service Restaurant to Watch
If you haven't heard about LemonShark Poke, now is the time to learn more about this QSR franchise.
LemonShark Poke has positioned itself as one of the fastest growing QSRs (quick service restaurants) in the franchise industry today. In addition to it's fast-tracked success, our strong network of FBA brokers have tremendous success matching clients with this concept and closing deals.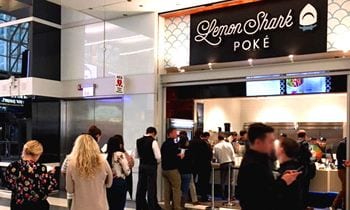 FBA Broker, Stacie Shannon, can attest to that. Stacie has successfully had two sets of clients invest in the LemonShark Poke QSR franchise in a single month. These deals helped spur LemonShark Poke's growth by a total of 3 additional locations soon to open in the California market. LemonShark Poke couldn't be any happier with the results they are seeing from our FBA broker network.
According to Randy Blue, Franchise Development for LemonShark Poke, "the FBA is by far the most professional broker group (or any 3rd party) company we use. They are on time, every time, with great follow-through." That is why this relationship works so well. The FBA carefully considers how every franchise operates before deciding to work with them. Randy Blue and the founders of Lemon Shark Poke help make closing deals easy given their belief in and support of the brand.
What makes LemonShark Poke stand out from the sea of other QSR franchise brands in the industry today?
According to FBA Broker, Stacie Shannon, there are 4 key attributes of the brand that ultimately led her clients to invest.
Low Investment Cost. The LemonShark Poke concept does not require any cooking. No hoods or grease traps are necessary, thus lowering equipment and build out costs
Streamlined Operations. LemonShark Poke has streamlined their operations so it only requires 1-1/2 hours of prep time every day to open the doors. Over ninety percent of the food is shipped direct to the franchise locations already cut, diced, and sliced which minimizes prep time significantly.
Offering & Atmosphere. LemonShark Poke provides an upscale, yet casual ambiance that draws guests in. In addition to their healthy, customizable poke bowls, each location has the opportunity to feature local craft beers. The craft beer station alone is a big hit and differentiator when clients are considering a QSR investment.
Validation. As with any investment, a franchise needs to validate well for prospects to invest. And LemonShark Poke delivers on validation. Although, they are still an emerging brand, one of their strongest validators is their first franchisee located in Orlando, FL. When prospects talk with other owners, they quickly learn that the support of the corporate office and financials of others in the system is extremely strong. This is the icing on the cake!
So, what does the typical LemonShark Poke investor look like?
Well, that's a great question. They come from all walks of life, according to Stacie Shannon. Her two clients came from very different backgrounds, yet had the same end goals in mind: Freedom to be their own boss and build a legacy for themselves.
One set of clients are a husband and wife team that live in Minneapolis, MN but plan to relocate to San Diego, CA within the next year. They ultimately decided on purchasing two territories. Both are lawyers, with only one of them actively practicing today.
Stacie's other client is a single mom living in southern California and is currently in law enforcement. She is looking for a more balanced lifestyle which will allow her to spend more time with her daughter and demonstrate to her daughter that you can achieve anything in life! Very different, but yet both found LemonShark Poke to be the perfect choice for their franchise investment.
Are you interested in a QSR franchise?
With over 84 franchises awarded to date, LemonShark Poké is looking for owners that have strong operations, financial, employee management and marketing experience. Semi-absentee ownership is just fine. Even close to passive ownership. Single, Multi-Unit and Area Development opportunities available.
Minimum financial requirements include $70k liquid cash and a $500k minimum net worth. Average investment range: $380k – $420k
If you are interested in learning more about the LemonShark Poké franchise concept, visit //lemonsharkpoke.com/franchise/. Ready to start your franchising journey? Find your franchise today.
Author: Stacie Shannon, Founder & CEO, Fusion Franchising