Winnie Couture Launches New Flagship Location in Back Bay, Boston
Nestled among the world-renowned shopping destinations in Back Bay, Boston, Winnie Couture's newest flagship houses over 120 gowns with three large bridal suites. Brides and their guests can schedule appointments to privately experience the intricacies of the extensive selection of gowns. FBA Broker Joshua Thomas helped launch the ninth flagship location in Boston, giving new luxury bridal salon owners the chance to be a part of every bride's big day.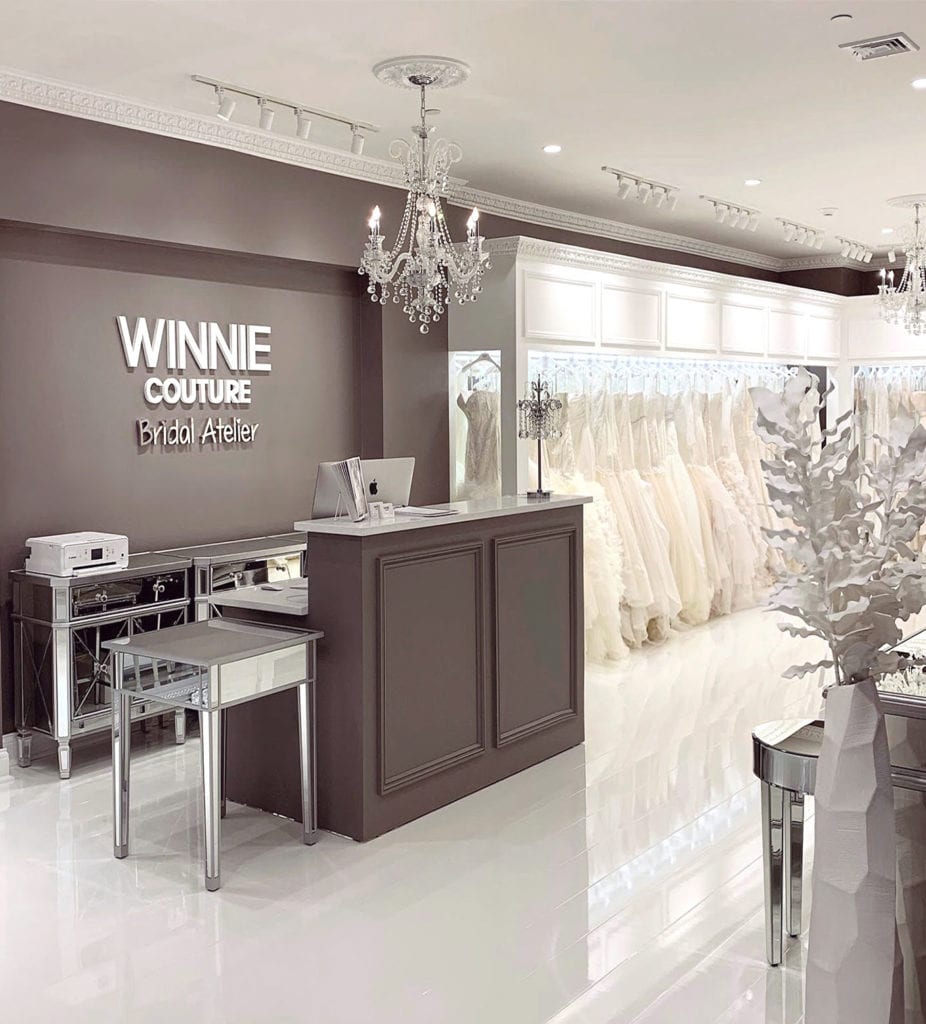 The Winnie Couture Difference
A modern mix of classic elegance and feminine luxury, Winnie Couture is a high-end attire brand known for their uniquely timeless wedding dresses.
A Winnie Couture luxury bridal salon owner recognizes the magic and importance behind saying yes to the dress. The salons are designed to deliver the ultimate, immersive shopping experience. The scene is set with airy and classic colors, sparkling chandeliers and a bright, luxurious atmosphere. Trained stylists greet visiting brides with a genuine commitment to making their wedding-day dreams come true.
Brides visit Winnie Couture salons with powerful expectations that reach far beyond the brand's iconic ethereal gowns. Salon stylists exceed those expectations by providing expert knowledge on the couture styles and outstanding customer service.
The Power of Winnie
More than just a brand, Winnie Couture has won the hearts of style-savvy brides, bridal editors and TV producers alike. Winnie Couture salons and gowns appear regularly in widely read magazines including Brides, The Knot, People, US Weekly and InStyle. Also, not a stranger to the screen, the gowns have appeared on hit television shows including ABC's "The Bachelorette" and NBC's "Miss Universe." Joining the Winnie Couture family means representing the legacy of the world-renowned brand that brides, celebrities and fashionistas have come to trust.
Why Should You Choose Winnie Couture?
Imagine the opportunity to play a pivotal role in the shopping opportunity of a lifetime for millions of brides. As a Winnie Couture salon franchisee, you join a world that is passionate about bridal fashion, business, weddings and all things glamorous!
The 35 billion dollar bridal gown industry is here to stay, and Winnie Couture is continuing to grow its market share with over 300 franchise stores targeted to open in the next five years. With 9 flagship locations, Winnie Couture's experienced management team understands the resources need to train, grow and support a franchise. As an owner and operator, you will be provided with thorough training at a flagship salon and continued on-site training at your local salon.
Top 5 Benefits of owning a Winnie Couture Bridal Salon Franchise
Low Entry Cost
Semi-Absentee Ownership
Low Cost and High Margin
No Costly Inventory – gowns are custom and made-to-order
Comprehensive Marketing and Advertising Provided
Owning a Luxury Bridal Salon
Ready to take the next step? If crystal chandeliers, champagne cheers and helping dreams come true every day sounds perfect to you, you just might be a good fit for the Winnie Couture family.
A successful Winnie Couture owner has passion for the wedding industry, enthusiastic leadership and a desire to help brides find their dream dress. Here is what they look for in an ideal franchisee:
Passion for the wedding industry
Lives within the market area
Excellent leadership skills with the ability to inspire other bridal stylists
A bubbly, friendly and personable personality
The ability to run the financial aspects of a business
If you are interested in the concept and would like to know more about becoming an owner, click here.
Ready to become a member of the FBA? Contact us here, or email us at joinus@franchiseba.com today! Find a franchise match with FBA Find Your Franchise.