The Nation's Fastest-Growing Moving and Junk Removal Franchise Adds Roots in Dallas, TX
After 22 months of working together, FBA Broker Mike Touey helped his first prospect find the perfect franchise fit in College H.U.N.K.S. Hauling Junk & Moving®. With a very successful track record of business ownership, the candidate loved the value, culture and financial opportunity associated with College H.U.N.K.S. Hauling Junk & Moving. As the nation's fastest growing junk removal and moving franchise with an emphasis on excellent customer service, he felt drawn to the franchise company mission and purpose to "move the world". This mission applies not only literally as a moving franchise, but also emotionally as a world-class leader in the customer service industry.
Mike Touey's candidate purchased his first College H.U.N.K.S. Hauling Junk & Moving franchise in October of 2019 in Dallas, TX. The franchise allows franchisees to purchase one territory upfront, but the new Dallas owner plans to buy three more territories after 6 to 12 months.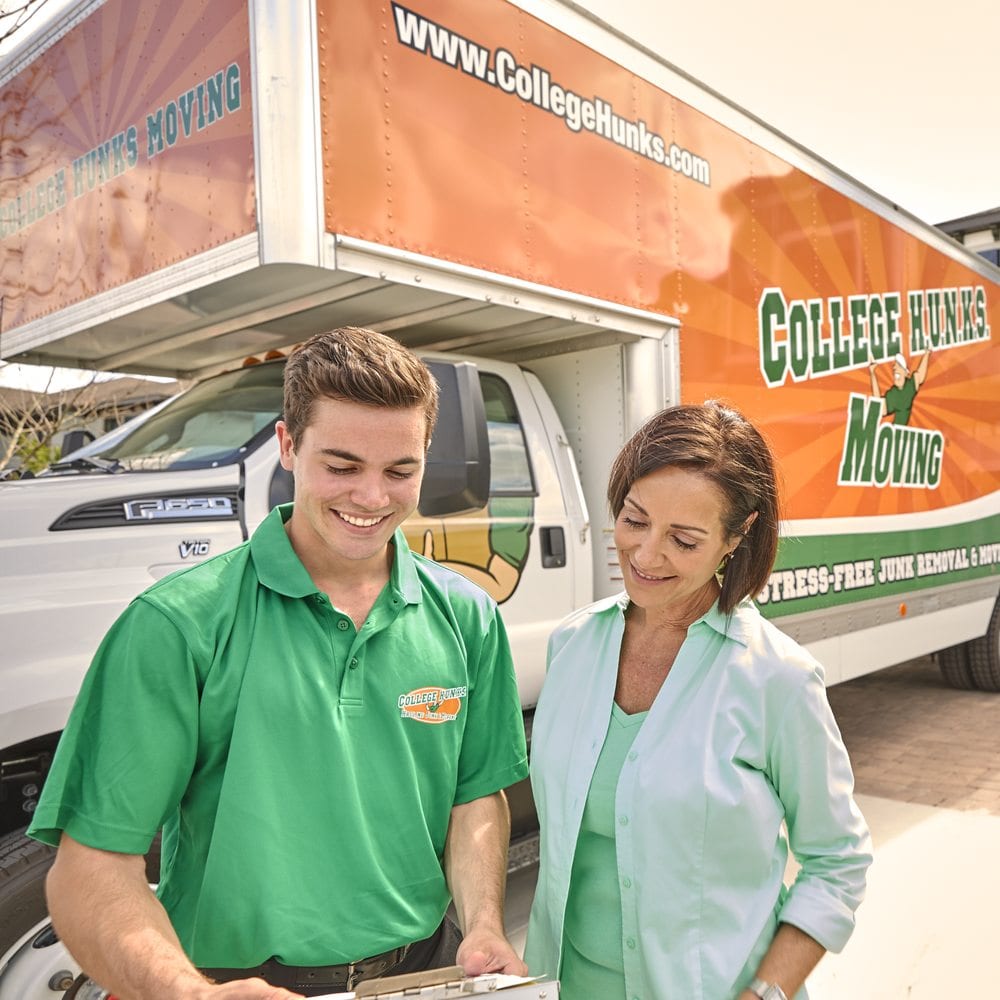 What Makes for True H.U.N.K.S?
Honest. Uniformed. Nice. Knowledgeable. Service.
College H.U.N.K.S. Hauling Junk & Moving is the only full-service residential and commercial company to offer moving, junk removal, donation pickups and general labor in the United States and Canada.
The junk removal and moving franchise has grown leaps and bounds from its humble beginnings. In 2003, the business started with two college students with a van and a commitment to excellent service. Then, the company began franchising in 2006. Today, the franchise system has more than doubled in size since 2010 and has experienced 500% systemwide growth since 2013.
The College H.U.N.K.S. Hauling Junk Difference
A steadfast commitment to excellent customer service paired with knock-out brand awareness make College H.U.N.K.S. Hauling Junk a recipe for success. Despite rapid growth and massive success, the moving franchise has always adhered to their original four core values:
Building leaders: Owners inspire every team member to reach maximum potential and achieve greatness.
Always branding: Every individual involved with College H.U.N.K.S. represents the brand's reputation. Team members should strive for positive, community-oriented service and deliver 100% client satisfaction every time.
Creating a fun, enthusiastic team environment: The company environment is all about having fun. Having fun at work makes it easy to spread enthusiasm throughout team members and clients alike.
Listen fulfill and delight (the WOW effect): Excellent customer service means engaging in meaningful conversation and thoughtful listening. When a client express a problem or issue, the College H.U.N.K.S. policy is to go above and beyond to turn the experience into a positive one.
The catchy and memorable franchise name paired with outstanding service lead to a guaranteed positive and recognizable reputation. Multiple national television programs have featured College H.U.N.K.S., including House Hunters, The Oprah Winfrey Show and Millionaire Matchmaker. Additionally, the moving franchise has been published in widely-read publications like The Washington Post, The Wall Street Journal, The New York Times, USA Today, TIME Magazine and The Huffington Post.
The Ideal Candidate
College H.U.N.K.S. Hauling Junk & Moving is looking for leaders who can motivate and educate team members on how to deliver excellent customer service, embrace leadership qualities and own responsibility.
The most successful owners:
Are enthusiastic, optimistic, passionate, and people oriented
Are good listeners with a keen attention to detail
Have a can-do attitude and a "work hard/have fun" mentality
Owning a College H.U.N.K.S. Hauling Junk & Moving Franchise
Does this sound like you? If you're ready to deliver Honest, Uniformed, Nice, Knowledgeable Service and step away from your 9 to 5, it may be time to explore the possibility of owning your own franchise.
College H.U.N.K.S. Hauling Junk & Moving is a low-cost franchise with tremendous growth potential. From 2013 to 2017, the average franchise revenue grew 113%. The franchise support systems are designed to help franchise owners succeed. In fact, they are so confident in the business plan that they offer franchise owners the opportunity to opt out of their franchise agreement if the business is not performing to their expectations after 18 months of opening.
Most junk removal franchise owners finance the startup costs. If you are interested in starting a College H.U.N.K.S. Hauling Junk & Moving franchise, it is recommended to have the following:
$50,000 in liquid capital
Net worth of $200,000
Initial investment of at least $89,800
The cost may be higher if you choose to launch the junk-hauling and moving concepts simultaneously, since the truck requirements are different, or if you decide to purchase multiple zones.
Interested in becoming a College H.U.N.K.S. Hauling Junk & Moving franchise owner? Learn more by calling (878) 205-2146 or by visiting the website.
Ready to become a member of the FBA? Contact us here, or email us at joinus@franchiseba.com today! Find a franchise match with FBA Find Your Franchise.