Eldercare Franchise Awards New Franchisees Three Territories Through FBA Broker
Senior Care Authority, a placement and eldercare consulting business, has awarded a new franchise owner in Ohio. With the help of FBA consultant Nan Stricker and her introduction of Senior Care Authority to the right franchisee, the brand will expand to three markets: Cincinnati, Dayton and Columbus. This franchise will join a growing system of 70 locations nationwide.
FBA Consultant Helps Spouse Team Find the Perfect Franchise
The new owners, Mark and Rachel, are a motivated spouse team passionate about helping seniors. When finding the perfect franchisees for Senior Care Authority, FBA consultant Nan Stricker leveraged thorough attention-to-detail to ensure a successful match. She provided initial personality and background assessments to help determine which franchise would be the best fit for the couple. Thanks to Nan's comprehensive assessment, Mark and Rachel were energized about Senior Care Authority when they first learned about the business in mid-September. This early enthusiasm resonated well with brand owners and lead to a three territory deal just three months later!
Mark and Rachel's background, skills and personal passions make them a great fit for Senior Care Authority. Mark has been a physical therapist for over 30 years, working specifically with seniors in a variety of settings for the majority of his healthcare career. Additionally, Rachel has a background in medical laboratory science, health insurance and customer service. With both of their professional and personal experience, they know how to advocate for patients in the healthcare system. The spouse team decided to bring Senior Care Authority to the Cincinnati area in order to put those skills together with a company that has the goal of helping families navigate senior living challenges.
About Senior Care Authority
Senior Care Authority understands the importance of making the right decision when it comes to the care of loved ones. That's why they make the process of looking for assisted living and other care services as smooth as possible. This no-cost service for families offers individualized assistance and support through numerous long-term care options. Their proven 3-step process is designed to save families time, money and stress.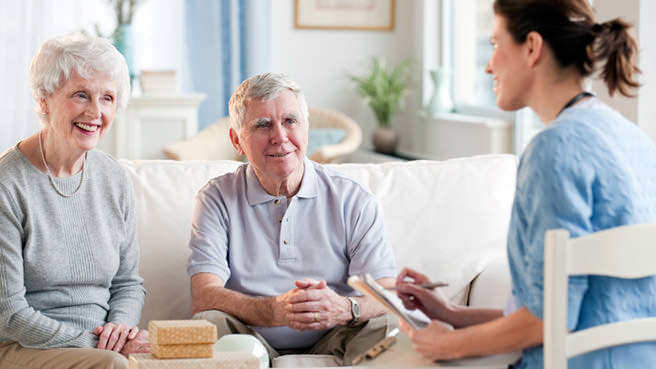 Assessment. Senior Care Advisors complete in-person and over-the-phone assessments to determine what factors are most important for the client in need of care. Rather than making individuals sort through a list of providers themselves, Senior Care Advisors use their expert knowledge on the industry to recommend the best assisted living options for everyone.
Resident Visits. Once the assessment is complete, clients receive a list of only the highest rated options that meet their geographical, financial and care needs. Then a Senior Care Advisor escorts the client to each option, staying with them every step of the process, as an advocate and in support of the final decision.
On-Going Support. Service does not stop with placement. Patients needs and care levels can change, and that's why Senior Care Authority will follow-up on each placement with on-going support.
Owning a Senior Care Authority Franchise
Senior Care Authority offers a full support system to franchisees with access to two revenue streams:
Senior Placement. Whether families need services for independent living, assisted living, memory care or in-home care, Senior Care Authority franchise owners identify the right level of care and find the best fit for seniors. Franchisees are directly compensated for placement services by assisted living facilities, not the families in need.
Eldercare Consulting. Exclusive to Senior Care Authority, eldercare consulting offers families support with challenging transitions and decision-making for their loved ones. This may include family coaching, skilled nursing, caregiver selection, connections to vetted resources and more.
Finding care for loved ones involves thorough research and difficult decision-making. For every client, Senior Care Authority franchise owners customize individual programs to fit unique needs and make the process as smooth as possible.
Is Senior Care Authority the Right Franchise for You?
The growth in the number of senior care businesses to meet the demand of an aging population is staggering. In fact, about 70% of individuals over the age of 65 will require some type of long-term care services during their lifetime. Additionally, the number of Americans aged 65 and older is projected to be 88.5 million in 2050. That's more than double the projected population of 40.2 million in 2010. Now is the perfect time to join a rapidly growing industry and provide care for those in need.
The Senior Care Authority business model is proven, can be operated from home and has very little overhead. Most importantly the senior care and placement industry can be very gratifying, both personally and financially.
Interested in this franchise? Learn more here and follow Senior Care Authority on Facebook and LinkedIn.
Are you ready to become a member of the FBA? Contact us here, or email us at joinus@franchiseba.com today!