Diesel Barbershop Franchisee Utilizes Support from Friends, Family and FBA Broker
In September of 2019, FBA Broker Lance Hood introduced a hopeful franchisee, Adam Remington, to Diesel Barbershop. Adam was looking for a semi-absentee, recession-resistant business with recurring revenue and no receivables that he could grow while he stayed employed. Lance used his knowledge, professionalism and experience in the franchising world and presented Adam to Diesel Barbershop, a modern-day man-cave inspired barbershop that could be an excellent fit for Adam's personal and professional goals. After careful consideration and thorough research, the Broker & Franchisee pair closed a 3-pack deal on January 29th 2020 for Diesel Barbershop units in Dallas, TX.

A Family Affair
Purchasing a franchise impacts the new business owner on both a personal and professional level. That's why Adam was extremely thorough during his investigation of Diesel, the suggested franchise. Both his wife and his father actively participated in his due diligence and even attended the franchise Discovery Day as a group. Broker Lance Hood assisted Adam and his family through every step of the process, answering their questions and providing additional resources.
Along with looking to his family and broker for guidance, Adam also solicited the council of his financial planner, friends in the hair care industry and two separate attorneys. After careful assessment, he made a well-educated decision to invest in Diesel Barbershop.
He not only appreciates the unique look and feel of the barbershop franchise, but also the strong customer service, customer retention, comprehensive training program and "hands on" franchisor to franchisee relationships. "I feel like Diesel Barbershop has my back," says Adam.
A New-Age Barbershop Experience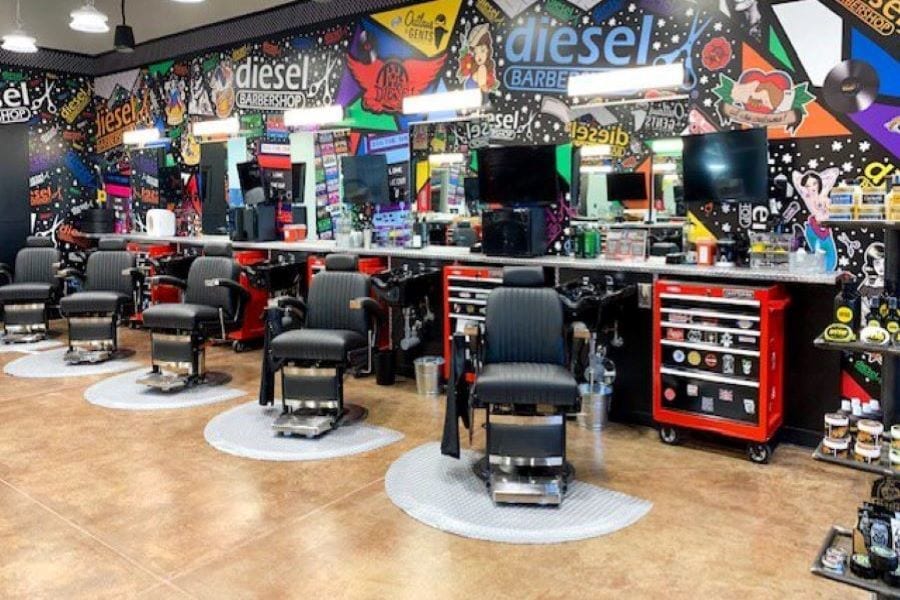 Diesel Barbershop self-describes their look and feel as part barbershop, part salon, part old school record store, part mechanics garage, part tattoo shop, and part vintage arcade. Essentially, the franchise created a man-cave for great haircuts and an amazing overall haircut experience.
In a sea of traditional salons, Diesel aims to provide an oasis for customers looking for a more masculine atmosphere to get a haircut. At Diesel, they're free to talk about sports, pop culture, movies, history, or whatever their interests are with their barber and other customers. In fact, many customers linger after their haircut to finish a beer, watch TV or set the high score on Donkey Kong.
Why Choose Diesel Barbershop?
Diesel Barbershop prioritizes a fun and enjoyable experience for both customers and employees. Picture your days filled with casual conversation, local beer, good music and video game competitions.
Along with the fun environment, Diesel thrives on a very attractive business model that offers a low investment, good ramp-up, small number of staff and strong potential return on investment. The company is completely dedicated to helping franchisees be successful, providing plenty of on-going training and support.

Owning a Diesel Barbershop Franchise
Are you ready to break the mold of traditional salon service? Join the Diesel movement to create a fun, inviting atmosphere for customers looking to kick back, relax and get a haircut. The semi-absentee structure allows owner flexibility. Franchisees choose how often to be in the shop, and many often maintain a full-time job or other investments while owning a unit thanks to Diesels "Train the Trainer" model.
They are looking for franchisees who:
Are prepared to take their financial future into their own hands and create successful franchises
Have the ability to set goals and strive to achieve them
Are able to learn and execute a precise business plan
Can lead and motivate employees to achieve short and long-term goals
Are ready to invest in themselves.
Diesel Barbershop franchisees can come from all walks of life. Franchisees should have disciplined acumen for maximizing opportunity and knowing how to follow a system to run a business. Additionally, they should be committed to building productive teams and relationships. Knowing how to inspire and how to bring out the best in other people is a key to success for all franchisees.
Ready to know more? Start by visiting the website and submitting this form. Follow Diesel Barbershop on Facebook and Instagram.
Are you ready to become a member of the FBA? Contact us here, or email us at joinus@franchiseba.com today!