How FranchiseFilming Makes Video Accessible for Franchisors
If a picture is worth one thousand words, then a video must be worth 1.8 million words. Right? Well, according to McQuivey's Forrestor study, that is precisely the case. So, what makes video so powerful? The bottom line is engagement and retention. Studies have found that "viewers retain 95% of a message when they watch it in a video, versus 10% via text."  And these are just a few of the reasons why FranchiseFilming is making waves in the franchise industry through its innovative video filming services.
Why FranchiseFilming? A happy clients' testimonial.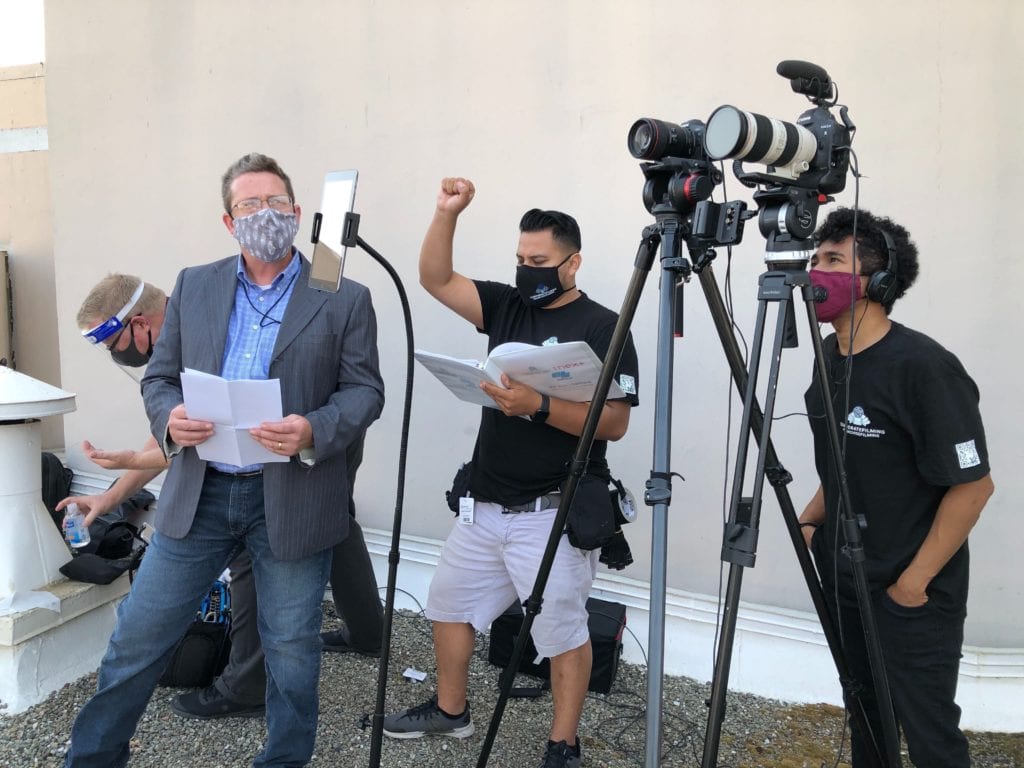 With over 4,000 franchise brands in the United States all vying for investors' attention, how can they possibly differentiate themselves? According to Go-Mini's President & CEO Chris Walls, telling stories through promotional videos is one of the most powerful ways they have been able to differentiate their franchise brand. And that is precisely why they outsourced their videography needs to FranchiseFilming. "First impressions are the most important. When looking at Go-Mini's for our services or a potential investment opportunity, we need to convey our business's professionalism and opportunity through quality videos. Videos humanize us – our brand."
Walls goes on to share how they recently completed a video shoot with FranchiseFilming and "finds the team to be very professional and responsive. They paid close attention to detail to convey the message we had agreed upon. In this day in age, there are a lot of individuals that call themselves videographers or filmmakers. A distinct difference with FranchiseFilming is the professionalism they bring to the table. They are pros, and they brought in pros to execute and accomplish our video."  
What better testament than a happy client!
FranchiseFilming's Value Proposition
Although Trevor Rappleye, CEO of FranchiseFilming, began the business in 2018, he has been passionately focused on film and storytelling since 13 years of age. Over the years, through his entrepreneurial work as a filmmaker, Trevor recognized the growing need for franchisors to share their stories through video. Still, the complexity of it overwhelmed most franchisors, so they did not do it. So that is where FranchiseFilming comes in to play with their unique value proposition and monthly VIP Membership video package, which includes:
Videos completed in just 5-10 days.
No U.S. travel fees – really, none.
Free scriptwriting, voice-over, and concept creation.
Consistent edits every week or month to drive sales.
Streaming song licenses.
One flat fee! No hidden charges or fees, with the promise your price will never rise.
Free subtitles.
Free blooper reel. Who doesn't want that?
FranchiseFilming carefully crafted their flat fee package offering after recognizing why most franchisors were not using video as a part of their marketing campaigns. Some of the most common objections or reasons why they heard (and still hear) include the following:
We can do it on our own. FranchiseFilming won't argue with this. But can it be done as professionally, cost-effectively, timely, and frequently as it should be? Once a franchisor factors in all the miscellaneous costs associated with investing in equipment and travel, it quickly starts adding up. Not to mention that other departments will begin to pull on those same resources quickly, causing a back-up in production.
We want one scripted video. Production of just one video will not give franchisors the ROI that they desire. According to a report from Hubspot Research, more than 50% of consumers want to see videos from brands… more than any other type of content.
It's too expensive.  In today's world, the focus has shifted from "it's too costly" to "we can't afford not to." In the same Hubspot article mentioned earlier, it goes on to say, "video hasn't only transformed how businesses market and consumers shop; it's also revolutionized how salespeople connect with and convert prospects and how service teams support and delight customers. In short, video is incredibly useful throughout the entire flywheel — not just to heighten brand awareness".
Go-Mini's is just one of the brands that can attest to video power and its return on investment. Walls shared that "this is the first year they have done a formal franchise development program, including video assets. Even throughout COVID, our pipeline has remained strong, and much of that is contributed to the work that FranchiseFilming has done for us".
Are you ready to propel your business through video?
If the answer is a "heck yes," FranchiseFilming would love to have a complimentary introductory call with you. An intro call will discuss your needs, strategize an ideal plan, share previous work completed, discuss pricing options, and answer any questions you may have.
To schedule your introductory call today, click here.
P.S. Sign up for FranchiseFilming's email list to get their "Five Tips and Tricks to Make Your Own Videos"!
Author: Stacie Shannon, Fusion Franchising