Business comes in all sorts of varieties and sizes - but before the digital era we live in, business owners were thought of as the people running your local shops and restaurants. A place where customers physically visited to purchase the products and services offered. Traditionally, owning a business also meant having employees to assist in the daily operations of the location.
Well, business and entrepreneurship look different these days. The title "business owner" could very well mean someone running an independent local shop - however, there is a significant rise in people selling their goods and services online, increasing their reach and demand to a limitless pool of potential customers.
Who are Entrepreneurs?
Think of artists, freelancers, podcasters, and even social media influencers such as YouTubers. Believe it or not, people with these occupations often consider themselves entrepreneurs. They are skilled at selling and monetizing their craft - usually in the form of e-commerce and digital services. And though not every entrepreneur chooses to own their own business, there is an upward trend of people moving to digital.
Given this, have you ever considered that you don't have to own and operate a traditional business to be an entrepreneur? The key to success and happiness in your endeavor is to get informed of the many options available and find an opportunity that meets your financial and lifestyle goals.
This is "How to Become a Franchise Broker: Your Guide to Business Ownership," and we're going to run through the list of what people want to know about this profession. But please note: becoming a broker is NOT a job opportunity. It's the chance to be your own boss, work from wherever, impact your community through informed business decisions, and establish yourself in a growing industry where YOU are the bridge to successful business owners and their soon-to-be brands.
What is a Franchise Broker?
Many types of brokers exist in our world of business - some of the most common being real estate, insurance, and stock brokers. And a broker, regardless of industry, is someone who connects buyers and sellers. They facilitate the process through their expertise in providing education, advice, and assistance in their specific field.
Franchise brokers are no different - except they match potential franchise buyers to the available brands for sale. And if you want to know the distinction between a typical franchise broker and one in our association… keep reading.
There was a time when franchise brands and buyers navigated this buyer-seller transaction alone. However, given the challenges of that dynamic, it was clear that brokers would become an integral part of the franchise sale process. But even so, there are still significantly fewer brokers in the industry than brands and buyers - which means there is a large pool of potential waiting to be tapped.
As a franchise broker, you'll have the opportunity to:
Assist entrepreneurs, just like you, in finding and purchasing franchises that align with their goals, interests, and lifestyle
Provide guidance and support throughout the process of buying a franchise, including conducting market research, evaluating franchise opportunities, negotiating franchise agreements, and ensuring your client finds the right fit
Network and build relationships with franchisors to stay current on industry trends and developments in the different business sectors
Earn a commission or fee for successfully matching buyers to brands and be in control over your compensation, as it is tied to your performance.
And that's just the technical side of the role as a franchise broker. Don't forget you'll have the opportunity to have as flexible a lifestyle as you want. Since it is a commission-based career, you can create your own schedule and work as much or as little as you want. This allows for a good work-life balance and the ability to pursue other interests or hobbies. After all, many people work so they can save up and afford to live the life they want - but what if you could claim the power to have both right now?
With that being said, you can work from home and/or have a home-based office which can save a lot on overhead expenses. Now, maybe for the first time, "home" can be a flexible term that allows you to go wherever you've always wanted - because now your time and money afford you that luxury.
However, even with flexibility and low start-up costs, it's important to note that this business may require a significant amount of time and effort to build a strong network of contacts and establish a reputation in the industry - that's why we recommend a franchise broker network.
Doing so takes the guesswork out of this step.
How to Find a Franchise Broker Network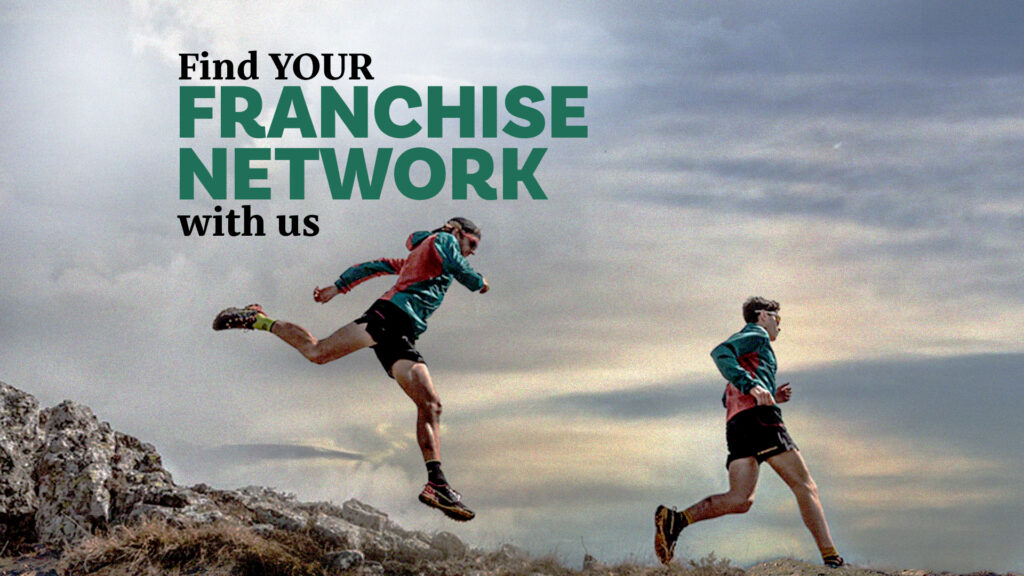 If you want to know how to become a franchise broker, one of the first things we recommend is finding the right network for you.
Oftentimes, people who consider becoming franchise brokers have some level of business expertise to bring to the table. Perhaps they're coming from a corporate executive-level position or have had years of sales experience building relationships with people. Regardless, their backgrounds often come with connections and contacts that can be utilized in their new career. And though this is a great to start with, to build a lucrative, long-lasting career, your network must continue to grow.
When looking for a franchise broker network, there's a lot to consider - from how many brands are in the network's inventory and how often they host events to the cost, how much support you receive, and the scope of training.
Finding the right network can be just as important as helping franchisees find their perfect business.
Here's how it works:
If you're an independent franchise broker, you have several options in the industry to choose from. However, many people join a franchise network from the very beginning of their career - starting with their training.
The training program they choose often has membership options that you get rolled into after the completion of said program.
What a network offers varies. Some just give you access to their franchise inventory and annual events, while others, such as ours, allow you to leverage our team to be more efficient and powerful as a broker.
So really, the question is which association can provide the best training for what you're looking for in your career - and to figure out the answer to that question, you must know the different types of training you can receive.
Franchise Broker vs. Consultant: What is a Franchise Consultant?
Two names get frequently interchanged within the industry - franchise brokers and franchise consultants. However, interchanging the terms is incorrect.
People buying a franchise will be looking for franchise brokers to assist them in that transaction. Franchise broker is the legal title for this profession. However, franchise consultant seems to be used more frequently for no reason other than personal preference.
The true definition of a consultant is someone who gets paid directly by a client for their services - and that's not often the case in our industry. In fact, there are less than 100 actual franchise consultants as of 2022. Compare this to the nearly 1,000 franchise brokers that are working within the franchise industry now. Also, a true franchise consultant is someone who turns an independent business into a franchise system.
All that being said, there are the rare franchise brokers that charge a flat fee to clients - and we only know less than 10.
If you'd like to read another comparison of brokers vs. consultants, check out this resource:
https://www.franchiselawsolutions.com/learn/franchise-compliance/guide-to-franchise-broker-and-seller-franchise-and-fdd-compliance
How Much Do Franchise Consultants Make?
A franchise broker, or the commonly misused term consultant, typically receives 50% of the franchise fee as payment. The national average franchise fee is $42,000, according to Vetted Biz's database of 2022 FFD's. However, it's worth noting that it is possible to earn more as sometimes brands offer incentives for the sale of multiple franchise units.
Working with an association like ours offers added benefits, such as higher commission payouts through the leverage of our team and protection for brokers through pre-negotiated contracts that ensure they receive the best deal possible.
The World is Your Office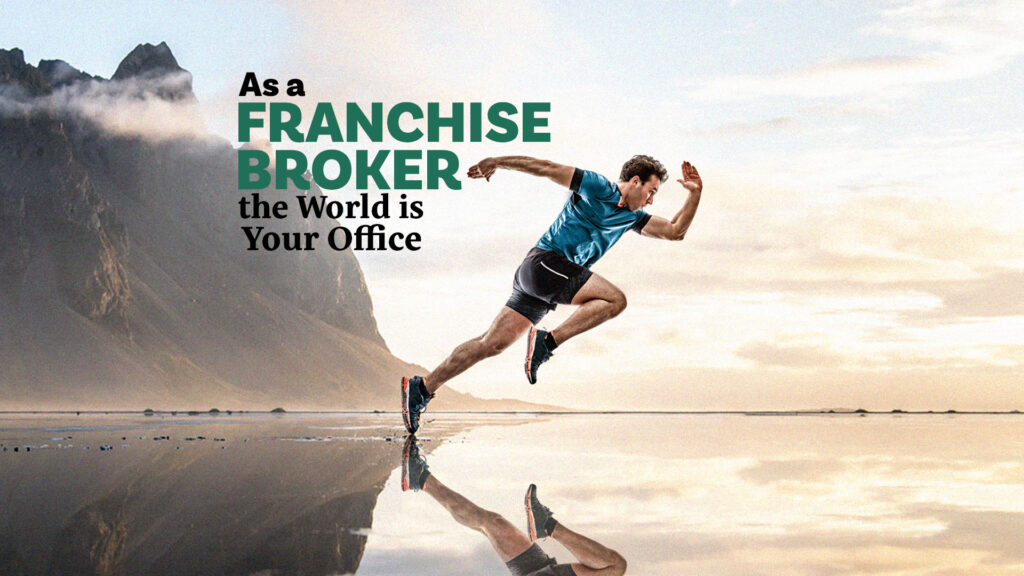 Imagine the freedom of being able to work from anywhere, any time. And not just working remotely as an employee - but to be your own boss, too.
Starting your own business can be a fulfilling and rewarding experience, and there are several statistics that support this. One example from the National Small Business Association found that 70% of small business owners reported being happier than they were before starting their own business.
But if the idea of starting something from scratch seems like a reach, consider this…
You wouldn't be! With the right training and network of support, you can launch a franchise broker business with a tried and true recipe for success. We provide you all the training, tools, and technology you need to connect with clients and manage your business seamlessly, even when you're miles away.
Other, more traditional ways of running a business would prove more difficult at the start - with the need for a physical space, building and testing business models, and finding customers and clients to service. While franchise brokering is not without its challenges, the pros of working remotely in this modern business model far outweigh the cons, making it a fantastic option for those looking for a rewarding, prestigious career, with the only limitation being your vision of success.
How to Become a Franchise Broker with us
The Franchise Training Institute is not for every aspiring franchise broker. Yes, you read that right - we don't take just anyone.
Our association truly believes that It's not just a business you're building - it's also the connection with people. We want our brokers to have the intention to do right by those they serve and stick by our community mission to find the right franchise fit, even if it means sacrificing the financial upside. Brokers with the Franchise Training Institute take care to provide honest guidance with the goal of leaders creating more leaders.
We say this because there are many people considering this business opportunity due to the large financial upside and low ongoing costs compared to other types of business models.
The only real expense of the business is marketing - and we provide resources for brokers to generate leads, market to them, manage sales pipelines, and evaluate success of those leads.
However, this is a premium service. You can speak to our specialists about pricing, but it's important to note that if you're selected to be in our program, what you get in return is not just a fully functioning business - but a family of other brokers, brands, and the buyers you will meet and help.
And if you are considering our training program, there is one more important distinction between just a franchise broker and one in our association. They don't just sell franchises - they sell GOOD franchises.
Take The First Step
In conclusion, becoming a franchise broker is a great opportunity for those looking for a flexible and lucrative career in the business world.
As a franchise broker, you would match potential franchise buyers with available brands - providing education, advice, and assistance throughout the process. The role allows for a good work-life balance, and you can work from home or have a home-based office, which can save on overhead expenses.
However, it is important to note that building a strong network of contacts and establishing a reputation in the industry may take time and effort - so look to us at FBA to help support you in your vision to become make your entrepreneurial dreams come true.
Contact us by calling our FTI Production Manager at (407)-559-6948. https://www.franchiseba.com/sell-franchises/