What if we were to tell you that some of the most profitable businesses are banking on two things… people making messes and (more importantly) them not wanting to clean it up. The numbers don't lie - people are more than happy to pay a premium for the convenience of having someone manage their messes.
Think about it…is your space spotless, right now?
Do you wish it was?
We all like to believe that we're diligent about keeping our spaces tidy, but let's be honest - it's easier said than done, especially when we're juggling the demands of work and daily life.
That's why businesses that offer cleaning and organizing services are thriving, with smart entrepreneurs tapping into a market that's only growing larger as people seek out more ways to simplify their lives. Enter: Molly Maid.
The Molly Maid franchise offers a trusted and reliable solution for homeowners who want a spotless home without lifting a finger.
In this article, we're dusting off any idea that owning a cleaning company means you have to enjoy cleaning. This couldn't be further from the truth. We want potential owners to understand that the Molly Maid franchise is about taking the mental and physical load of cleaning off their client's hands.
But before we continue, just stop to think for a moment - how it would feel to guarantee you walked into a clean home everyday - for the rest of your life. And how it would feel knowing that you get to give that experience to other people in your community - imagine the delight! In fact, it's not hard to imagine because you know exactly how it feels when your space is clear… your mind becomes instantly less cluttered, too.
When you buy a Molly Maid franchise, you buy a reliable, steady, and low stress business that gives the gift of physical and mental cleanliness - who doesn't need that?
The Making of Molly Maid
Molly Maid is one of the world's most recognized residential cleaning services. For over 40 years, they have been providing exceptional cleaning services and have earned a sparkling reputation for their commitment to customer satisfaction and building valuable relationships.
The making of the Molly Maid franchise began in the late 1970s, when a working mother who struggled to keep up with household chores recognized that there was a need for reliable and trustworthy cleaning services. Sound familiar?
This is one of the reasons that Molly Maid has been so successful - the nature of the industry is timeless and can't be shortcutted with technology. Cleaners change the lives of their clients, freeing their time and capacity to do more in the day. Isn't it true that people talk about and cherish their cleaning companies, often keeping them for years, if not decades? Chances are, you have friends and family who love their cleaners, too.
This kind of loyalty is key for business owners. It reduces marketing expenses and creates a solid foundation of recurring clients - leaving more time for other parts of the business such as upselling and securing the bottom line. And for most business owners that bottom line is increasing revenue - but with Molly Maid, there's more than just that.
Owners of this brand have come to anticipate one more thing - something you maybe wouldn't expect new business owners to have: ease and security.
Imagine looking at your business at the start of each month and knowing how much money you'll make. This resolves a major pain point for owners who struggle with the ups and downs of traditional business models - we'll touch more on this later.
Neighborly Brands
The benefits of buying this brand are many. Molly Maid is a proud Neighborly company!
If you're not familiar with the development group, Neighborly is a collective of home service brands that share an unwavering commitment to deliver exceptional service to their customers. The home service professionals within their network adhere to this principle: "if a job's not done right, we'll make it right." This is the Neighborly Done Right Promise™.
What does this mean for owners?
Being a Neighborly brand means that Molly Maid is held to high standards of professionalism and quality. A lot of people say that, they mean it.
This is reflected in the delivery of an exceptional cleaning service that is "done right the first time". Don't you trust companies that deliver what they say? That's how Molly Maid KEEPS trustworthy relationships going.
With trust like that - comes retention. We already mentioned how recurring clients can lower the marketing budget and ad spend, but with Neighborly there's also cross marketing and ProTradeNet support.
Cross marketing is when one business uses the contacts of another business to drive new clients to their company. Since Neighborly has home service brands of all kinds–such as painting, appliances, flooring, landscaping, and more– each company is able to recommend their clients to Molly Maid, if they are in need of cleaning services. It's a built-in marketing engine to gain more business passively and inexpensively.
ProTradeNet, is a benefit only for Neighborly brand owners. The program aims at becoming a complete supply-chain solution - fulfilling product, service, and business needs through elite, national vendors. Franchise owners receive special pricing, rebates, exclusive opportunities, and more. This allows them to create stronger and more beneficial vendor relationships.
As a business owner, a huge stressor is how can I bring in more business and how much can I spend…?
So now imagine that customers are coming to you, your business is doing well, and you're getting special discounts! If you're not spending more money and time meeting quota, then what does your day to day look like?
A Day in the Life of a Molly Maid Franchisee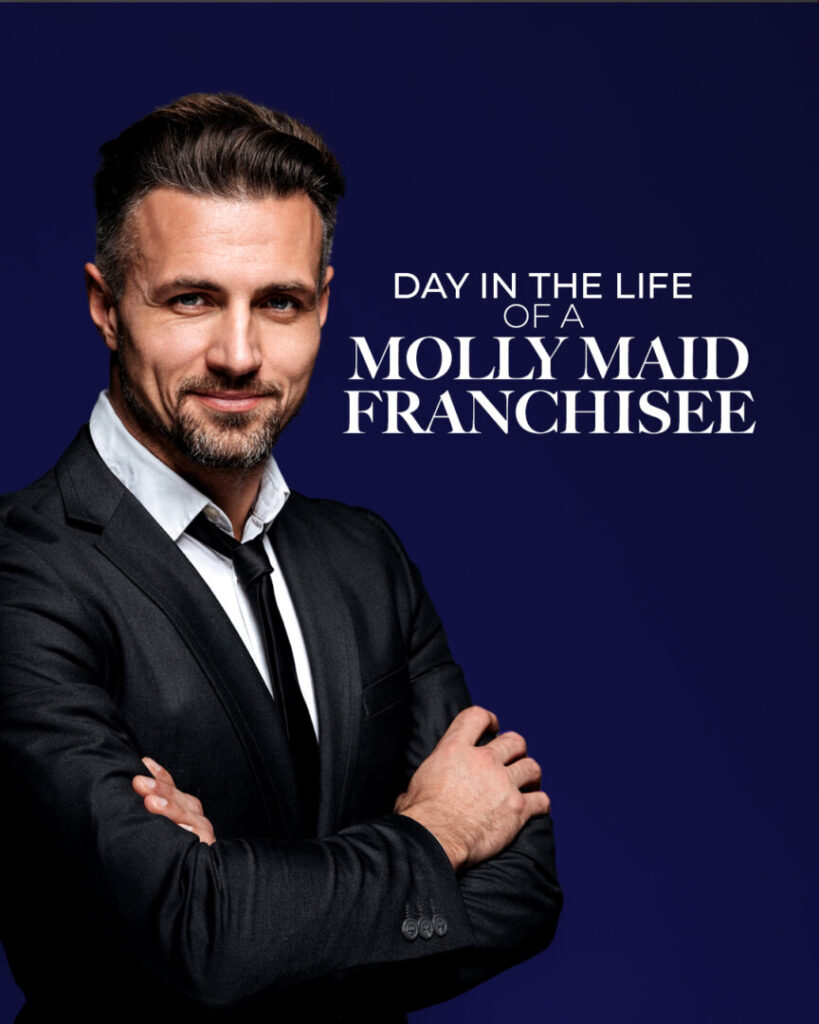 Everyone dreams of having a job, or owning a business, that gets you excited to go to work. For Molly Maid owners, this is their reality.
Rather than just listing all the tasks that owners do everyday in their business - we want to put you in the uniform and give you a feeling of what it may be like to own the Molly Maid franchise.
Picture this…it's Monday morning, and you're actually energized! You didn't spend all weekend working on your business, you simply enjoyed the time you had with your friends and family, knowing that your clients are taken care of and business is running smoothly. When you get to the office, you're greeted by equally happy and ready-to-work employees. Maybe this is something you've never experienced before, so you let your team know how appreciative you are for their dedication to the business.
After briefing your employees on the week ahead, you work your way down the checklist:
Determine which accounts are going out for the week
Check vehicles & supplies
Send your employees out
Schedule consultations with new clients
Discuss new business accounts with manager
Review current marketing material
Strategize any promotions or upsells
Talk to suppliers about product
Plan employee training
When you finish all of this, there's still time left to share your appreciation for not only your employees but your clients, too. Perhaps you also have a few thank you notes to get back to! Then just like that, your day is done. You head home feeling that you've done meaningful work and have made a difference in your community - and, you're looking forward to tomorrow!
You can do that, right? We think you can! But if you'd like to know if your professional background and skill sets are suited for this business model, then we have a section dedicated to the ideal buyers for the Molly Maid franchise.
Who are the Ideal Buyers?
Did you know Molly Maid is a World Class Franchise? That title gets awarded to brands whose franchise owners have taken the time to participate in the award survey. And it's important to note that the award is not an easy win - it takes hundreds of voters to get recognized! So with that information, we can get a decent idea of not only how good the brand is, but hear from the current owners who take the time to participate.
However, good owners begin as good applicants - so, who are the ideal buyers for Molly Maid?
Leaders, executives, and middle managers.
Managerial experience is extremely valuable as an owner because this is largely what you'll be doing in the business. However, the most important quality is leadership. The franchise system is looking to award this brand to people who can inspire their teams to be the best, teach them to show customers care and consideration, manage the numbers according to the plans, and be the mentor that most employees are searching for.
Mentorship is underrated in the business world - but it's crucial to cultivate. Employees who feel valued and cared for will produce better work. You're also helping them build life skills and experience! Who doesn't want to make money and help people?
Now, let's look at the flip side. Professionals coming from corporate America may be used to certain benefits such as the security of large paychecks and team collaboration - we understand that appeal. However, in this business they wouldn't be missing the confusion and stress that comes with a corporate job…or being told what to do! As an owner of Molly Maid, you will be your own boss and create the success and steadiness you had in previous roles, but with so many other benefits!
The benefits of owning a franchise like this does include team collaboration. As an owner, you choose employees that inspire you, just as you inspire them. That's the essence of team. By doing so, you can trust your employees to follow directions while also bringing their ideas to the table.
Is it a Scalable Model?
Yes! If you've been searching for a business opportunity that is profitable and courteous of your time investment, then look no further.
Molly Maid gives its owners the opportunity to become semi-passive after two years. This means that the day-to-day that we described above could evolve to become you just relaying tasks and information onto your chosen manager.
'Manage the Manger' types of investments are popular for those interested in buying additional franchises to add to their portfolio. Note that we say semi-passive, because successful businesses are dependent on their owners keeping a vested interest in the brand, its employees, and customers.
However, if you choose to get into the Molly Maid franchise, there is no obligation to distance yourself from the daily operations of the business - but the option is there. This brand appeals to all types of buyers.
When you think about it, a two year investment that has a recurring revenue business model is not a bad gig - the resale value is typically good as well.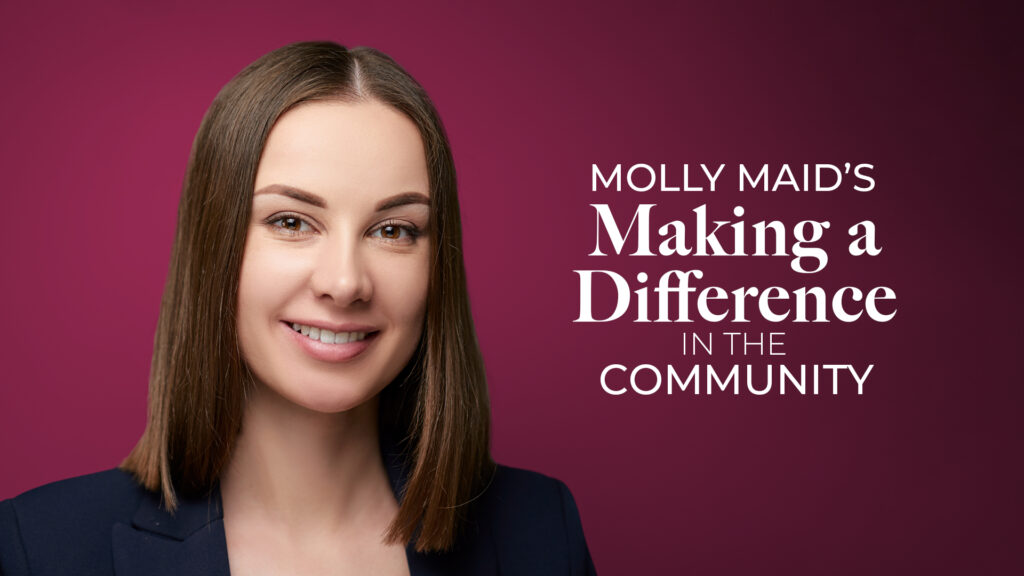 Apart from the obvious good that Molly Maid does for their clients across the country, the company also founded the Ms. Molly Foundation - a non-profit to support victims of domestic violence.
Giving back and cultivating a space that's not only clean, but safe, is extremely important to everyone involved. You can be a part of this change!
If you're interested in learning more and making a contribution to the Ms. Molly Foundation, click here.
Success Story
One of the most successful franchise owners of this business is a veteran. Though he didn't come from a corporate background, he displayed qualities of true leadership.
First, his wife built the business to over a million in revenue - then he took over. His work style is this: he was on a lookout for big-picture problems. Things his managers might be too close to see. His faith in his staff and management was absolute. His strong suit was growing organizations and hiring the right people. And he thought he was not a true entrepreneur by heart, yet he followed the rules efficiently and effectively and now has a multi-million-dollar business!
A Clean Home (and Business) is Just a Phone Call Away
How lucky are we that a clean home really is just a phone call away?
So is starting the process to buy a business!
Before this article, you may have thought - cleaning company? No way! Not me. I hate cleaning and wouldn't want to do that. But that's not what Molly Maid is all about. This brand is dedicated to not only helping customers have cleaner homes, but also helping owners feel secure in their business decision.
You could own the Molly Maid franchise and be one step closer to personal and financial freedom.
If you're interested in learning more about the brand, give us a call today at (866) 395-4697 or visit our page at https://www.franchiseba.com/molly-maid-franchise/ and book time with one of our specialists. They will get you in the door with the Molly Maid franchise!