The hottest trend in fitness franchise introduces intense 30-minute circuit workouts available any time of the day, complete with a personal trainer.
As one of the hottest and fastest-growing fitness franchise systems in the market today, the 9Round workout will literally kick your booty into shape with its 9 round, 30-minute sweat sessions. For those of us that have jam-packed work and family-life schedules, this professionally designed workout is a dream come true! Not only that, but you can pop into the studio anytime during their opening hours and begin your workout on your schedule – not theirs. Workouts start every 3 minutes throughout the day.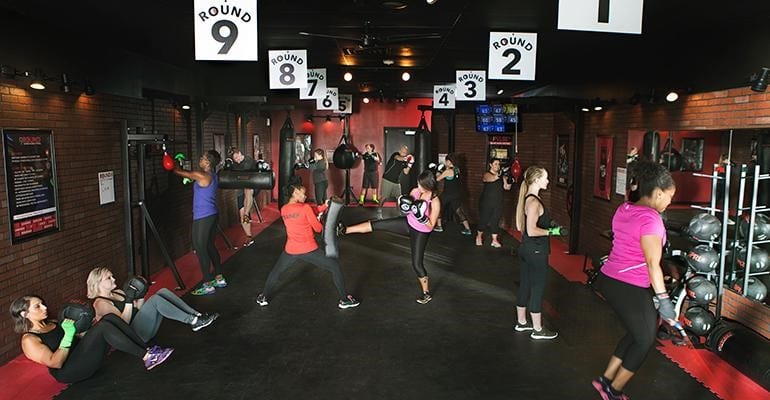 So what is all the rave about 9Round? Let us tell you about the hottest fitness franchise.
9Round is a specialized fitness franchise dedicated to serving clients who want a unique, fun and proven workout that guarantees results. 9Round offers traditional "old school" boxing and kickboxing fitness programs that incorporate functional, interval, cardiovascular and circuit training regimens. The programs center around a proprietary system of 9 challenging workout stations developed by a professional fighter. 9Round delivers a total body workout in only 30 minutes with no class times and a trainer with you every step of the way.
According to 9Rounds membership base, this fitness franchise has solved the top four major problems workout-enthusiasts face in their training today: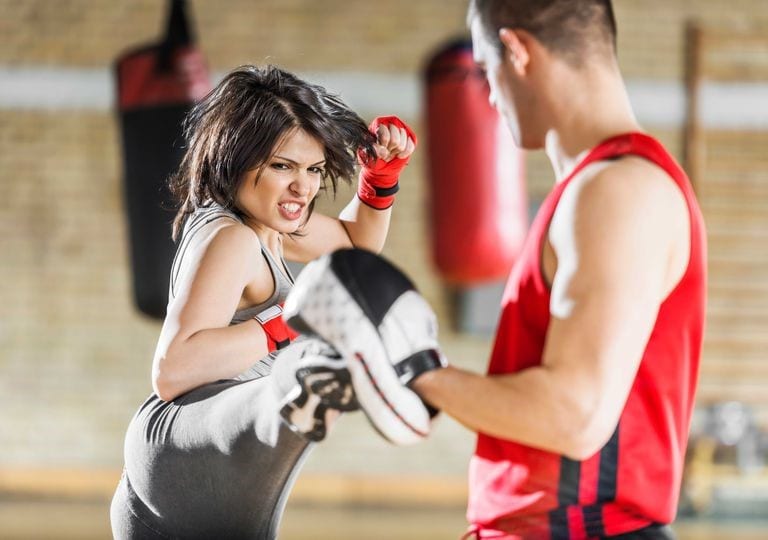 A member works the entire body in 30 minutes. They learn the exact exercises that boxing greats, such as Muhammad Ali, use to get in tip-top shape. Multiple machines must be used in traditional gyms to get the results a 9Round exercise can get in just 30 minutes.
They know that time is money. That is why the convenience of a circuit is so important. A member starts their workout whenever you want–morning, afternoon or evening. That's why they say "classes start every three minutes". A circuit station always opens every 3 minutes. By doing this, they adapt to the time pressures of the member instead of making them fit the needs of the traditional gym for class times.
Each of the 9 stations is different, challenging and fun so you never get bored. From learning how to hit the speed bag to jumping rope, the 30 minutes seems to fly by.
The best part is, there is always a trainer with you every step of the way to motivate and push you so you see results fast. No one is ever wondering what to do next. The on-site trainer and virtual nutritionist are available to clients for no extra charge.
Why 9Round?
Low Investment. Small footprint & easy buildout. $120,000 to $130,000 total spend.
Worldwide Brand Recognition. 700+ locations worldwide and growing daily.
Technology-Based. 9Round offers branded heart rate technology and nutritional website as a part of the member experience.
Low Labor Burden. Requires few employees to operate a single unit, contributing to low monthly overhead, reducing your out-of-pocket costs.
Highly Rewarding Environment. 9Round helps members improve themselves and their lives on a daily basis making them healthier and fit.
High Level of Customer Satisfaction. 9Round members are excited to work out because they get results and the workout is always different.
Highly Recession Resistant Model. Health and fitness are always in demand.
What does the ideal 9Round franchise owner look like?
9Round is looking for franchisees who love fitness and working with people. An outgoing personality and strong work ethic are needed to be a success in the fitness franchise industry. The individuals who qualify are trailblazers, leaders, influencers and committed to making a difference in their community.
Owner-operator to passive ownership models available. If desired, franchisees can maintain their current job/occupation and "manage-the-manager". All franchise owners must live within a 1-hour distance of the studio.
Minimum financial requirements include: $50K liquid cash and a $100K minimum net worth. Total investment range: $99,675 - $143,075.
If you are interested in learning more about the 9Round franchise concept, contact us today at 888-317-7429.
Learn more at https://www.9round.com/.
Ready to become a member? Contact us here, or email us at joinus@franchiseba.comtoday!