Before you decide if this is the business opportunity for you, we want to cover the basics of passive franchising and provide the full scope. So, let's start at the beginning - what is it?
Passive, or hands off, franchises are a type of business model where the owner does not actively participate in the day-to-day operations of their business. Instead, they act as an investor to fund the franchise in exchange for a larger share of the profits generated by the franchisor's efforts, or whoever's in charge of operations.
When it comes to the different types of buyers in the marketplace, the people considering passive franchises are usually not searching for an opportunity that allows them to leave their current corporate job, or live a life of financial freedom while doing what they love - like we see in many franchisees. In other words, they aren't looking for their dream job. Instead, they have an investor mindset and goals to continue growing their other streams of income.
Running and scaling a successful business can be difficult. However, it's not the challenge of doing so that is the unappealing aspect of working in and on the franchise - It's time. Time is a commodity, especially for investor types who want to keep growing and growing their investments. And this becomes even more clear when we look at the few reasons why people want passive.
So, the fact that passive owners are essentially investors that fund the franchise for a cut rather than operating the business themselves, means that someone else does. But who?
There are three typical onramps that we often see owners taking to get their hands on the best hands off franchises:
Now which option is best will depend on how much involvement the buyer wants in the business. There's not a one size fits all style in overseeing a passive franchise, but the options are there.
Since we've mostly covered the basics, we're going to get down to the truth of this question. But first, let's recall how franchising, in general, can yield a good return on investment.
Buying a franchise, and one you actively work on, lets you skip over some of the early challenges of developing a business. These are things such as building a business plan, creating marketing material, researching competition, and hiring the right team. With a franchise, you can start your business with tried and true products already familiar to the market. All this means that you have more time and energy to focus on making the franchise a success - opposed to spending your time and money on trial and error on finding the best ways to operate.
But like anything, how successful or unsuccessful your franchise is depends on a number of factors. You can read more about that in our article, "What is the Failure Rate of a Franchise?"
Now back to passive franchises…
In our 'like plant, like business' analogy we stress the importance of caring for your franchise so it can thrive - and that caring requires presence. A successful investment takes a certain amount of investment back into it, usually in the form of time and effort. Because for many investor types, money is not the issue. They are free to spend it as they please. But when it comes to investing in the best hands off franchises, there are things that impact the potential of success - such as choosing the right manager, replacing that manager if they don't work out, and providing guidance to that chosen team.
Success usually finds the people and businesses that provide the maximum level of effort. So, really the question could be "is there a franchise opportunity out there, passive or not, that is worth the effort it takes to get a good return on investment?"
Ideal Buyers for These Businesses
Have you ever heard of the Zorakle quiz? It's a quick business assessment that gives you an advantage in the early stages of considering a franchise. After answering the questions, you'll be assigned a buyer-personality type from four options - achiever, belonger, societal, and emulator.
The type of buyer considering a passive franchise tends to be a combination of Achiever and Belonger.
Some common motivations for Achiever-Belongers are:
Family & Security First
Being Dependable
Maintaining Residual Income
Efficiency & Saving Time
Taking Investment Risks
Staying Highly Driven
This type of buyer is often a paradox- two sides of the same coin. With that being said, Individuals who belong to the achiever-belonger type may find passive franchises appealing because they offer a balance between protecting their wealth and earning more income.
To find out your type and what kind of buyer you are - Take the assessment today.
What's in our 'Best Hands Off Franchises' Inventory?
What comes to mind when you think of a passive franchise or business? One easy to understand example of a passive franchise includes vending machine opportunities. In this case, the franchise owner provides the initial investment and the franchisor handles the installation, maintenance, and management of the machines.
However, there are more options out there to consider. Here are four franchise recommendations that will have owners working anywhere between 1 to 15 hours a week on their business…
1. Furry Land
Furry Land Mobile Grooming is an all inclusive luxury Grooming van service that comes right to your door. It's a fully passive model, as long as you buy the entire area's units and commit to a 5-year manager.
Why buy Furry Land?
The Pet Industry is one of the fastest-growing industries in America
Results-focused Marketing Program– they use Digital and Grassroots marketing to help grow the business. Furry Land Vans are the best Marketing!
Technology Programs– Furry Land utilizes a robust, multi-functional and easy to use CRM. Customers can book appointments online.
Diverse Offerings– Furry Land has a wide variety of services and products.
Operations– The Franchisor to Franchisee support, Call Center, Marketing Program and more give Furry Land the solid edge over the competition.
2. Grease Monkey Oil Changes & More
With over 40 years of franchising experience, Grease Monkey has a proven franchise system coupled with growth and the industry's top support system. One of the few quick lube franchises with positive growth. In 2023, Grease Monkey was named to Entrepreneur's Fastest-Growing Franchises list as well as included in the prestigious Franchise 500 ranking for the seventh consecutive year. Grease Monkey is also proud to have received the VetFran 5-Star rating demonstrating its extraordinary commitment to "provide access and opportunities in franchising to our Nation's Veterans and their Spouses."
This fully-passive opportunity allows for a franchise support team that runs all locations for the owner.
Why buy Grease Monkey Oil Changes & More?
Competitive Startup Costs
High Customer Service Rating
Stellar Repeat Customer Percentage
Recent System Growth
Multi-unit Opportunities
Independently Owned!
3. Naturals2Go
Naturals2Go is an equipment based, vending machine franchise - like we mentioned in our first example. The best owners are vigilant in executing the program, keeping their vending machines - that do the work for them clean and full, and building rapport with their vending sites to ensure the right mix for customer satisfaction and maximizing profits and margins. The machines in the Naturals2Go MVP Program are provided with the Telemetry system which will allow owners access anytime to see sales and inventory at the touch of a button. Owner operators will spend an average of 1 hour per week per machine servicing and running their business.
Why buy Naturals2Go?
Cash business and consistent cash flow
Unattended Retail – Let the machines do the work
Simple to operate
Great margins
Be Your Own Boss
Tax Benefits
NO Employees
Flexible Schedule
Minimal Time
Fast Ramp-Up
Easily Scalable
Recession Proof
No Restrictions
No Ongoing Fees
Mostly Cash Business
Making A Difference
Simple and Ease Of Operation
Consumable Products
Everyone Can Be A Customer
Multiple Streams Of Income
Investments To Fit Any Budget
4. Storage Authority
Storage Authority is a prominent self-storage franchise available in the United States – an industry with $39 billion in annual revenue and growing.
This passive opportunity helps busy professionals make an extra 6 figure self-storage profit and a retirement nest egg, while they continue their career. The Storage Authority Franchise opportunity reduces risk, makes ownership easier, saves owner's time and money, and most importantly helps them have a good life. It's equipment based with no need for employees.
Why buy Storage Authority?
A Storage Authority franchise is right for anyone who wants to combine the best of three investment opportunities – make a solid real estate investment, own your own business, and operate a franchise…
Professionals (such as doctors, lawyers, and accountants) or owners of an existing business – people who want to continue their career, while operating a second business opportunity
Entrepreneurs — who are looking for an investment with a solid return both in income and in real estate appreciation, now and for years to come
Real estate investors — who want higher returns than other sectors, including hotel and apartments, without the headaches of typical tenants
Families — who want a strong income cash flow now, into retirement, and into future generations
Couples — who want to work together in their own business
Owners of an existing self-storage facility — who want to take their business to the next level by crushing the local competition and becoming the preeminent hometown self-storage location
Consider Calling it 'Semi-Passive'
Referring to your franchise as "passive" comes with a few expectations - or lack thereof, when it comes to how much investment you're actually making inside the business. Passive infers that you're not assisting in the business at all - and that it's just another stream of income potential. Typically franchises are larger investments that you can influence the outcome of. When you don't put any insight into these investment you wont get strong results.
However, if you think of these business opportunities as semi-passive, then you can still get what you want by investing less time and energy into the business, but with the understanding that your involvement to some extent is key. If you're a savvy investor then you know that managing your business well means getting the results you want.
The franchise you choose, no matter if its one of the best hands off franchises, needs your attention to be as successful as you envision it to be - like a plant that needs nurturing.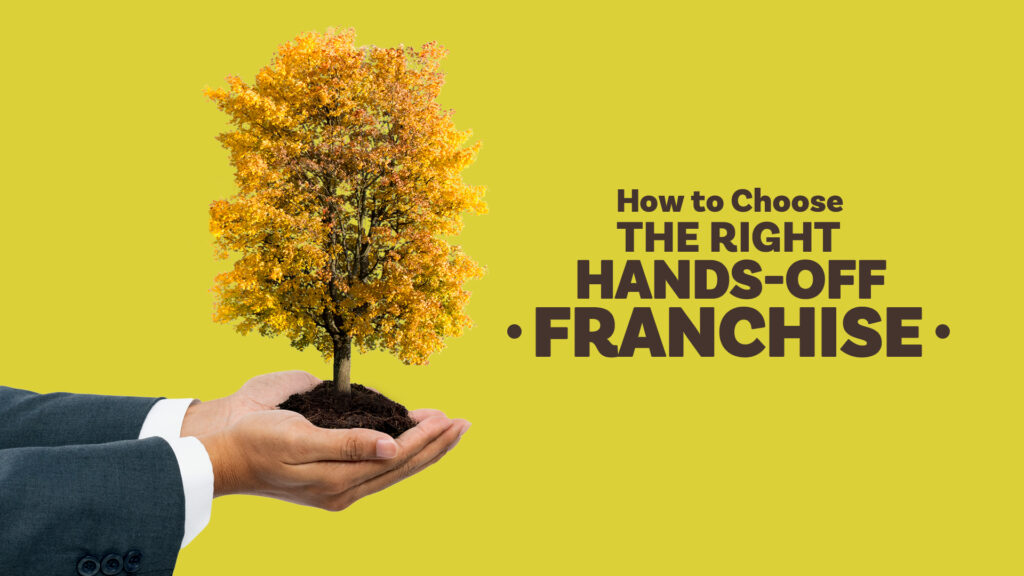 Let's Find You the Best hands off Franchises
If you think passive franchising is the right option for you, we can get you started in the process. However, if you do find yourself interested in other franchise opportunities - we work with over 700 brands that we put through a vetting process before adding to our inventory.
Speak to our specialists about your options about our best hands off franchises by visiting our website at www.franchiseba.com or calling in today (866) 395-4697.