If you've explored franchising recently and have researched the failure rate of the business opportunity, then you may have come across articles stating that franchising isn't all that - or all that safe of an investment, either. However, our first rebuttal to that is perhaps there's just not enough easily digestible content out about these franchising statistics.
We're here to change that.
In comparison to other types of business ownership in the market, it seems that more people are considering franchising over the last several years vs. starting an independent business.
There's been a franchise-boom, if you will. Because of this, the truth has become that franchise brands, brokers, and buyers are all still navigating the industry and what the exact numbers and rates look like in terms of success vs. failure because it's not that black and white.
Before we get into the numbers, it's important you know that franchising is an investment for entrepreneurs looking to run their own business and leverage the strength and support of an established brand. As a franchisee you are guaranteed some additional support - however, with any business venture, there is always risk of failure.
So, what is the failure rate for a franchise, or better yet, what factors can impact a franchise owner's chances of success? Here's a deep dive to help you understand the potential risks and challenges you could come across while exploring this opportunity.
Five Factors that Impact Franchisee's Success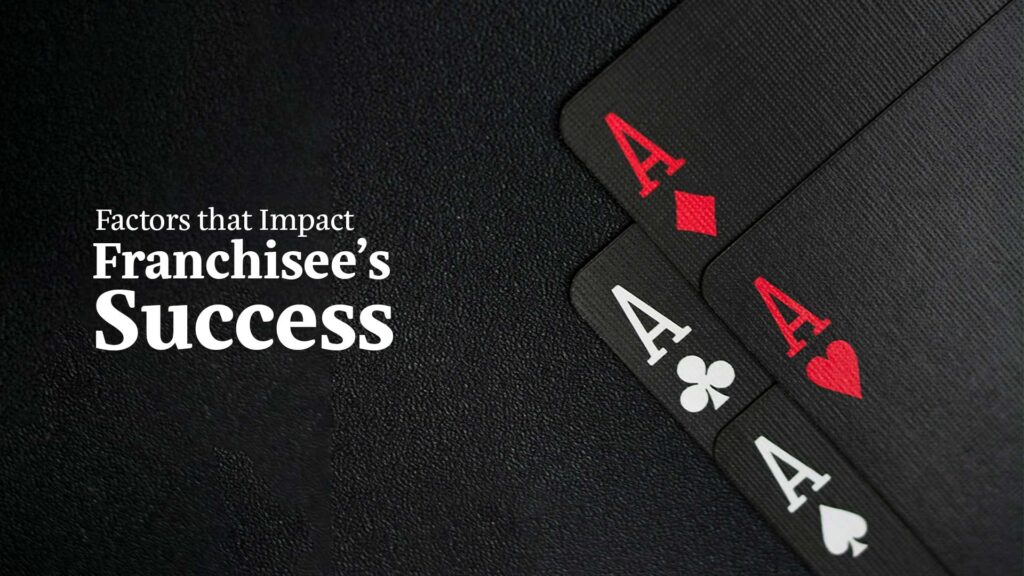 Like we mentioned above, the numbers aren't exactly - exact. There are so many variables to consider when asking what is the failure rate for a franchise. From the level of experience of the buyer and support they'll get to the type of brand, it's reputation, and the conditions of the market - meaning, the stats will vary.
Studies in the market have estimated that failure rates for franchises can be as high as 50%, while others studies show lower rates around 20%. With a range like this, It's important you research the potential risks of starting a franchise before deciding to invest. If you're curious to read about franchises with an extremely low failure rate (2% or less), check out VettedBiz's article, "Franchises with Lowest Failure Rate (2022)".
Also, have you considered working with a franchise broker? Having a broker in your corner is one of the best ways to gain this industry knowledge and confidence in your decision. They can help break down the numbers and statistics while also walking you through the process of becoming a franchise owner - from start to finish. Brokers also have access to the Franchise Disclosure Document (FDD). The FDD is where you can actually see the success rate of a franchise. The numbers are there, if you know how to calculate it or have a broker to help you understand it. So while the mass of general franchise success is hard to calculate, the individual franchise success is not, and our brokers have access to those numbers.
You can learn more about what a broker does and how they work with you in our article "How to Become a Franchise Owner in 2023."
Now, let's look into the many variables that impact the potential success of a franchise owner.
Level of Experience
The first factor that could impact the failure rate of a franchise is the level of experience of the owner. Are you a professional who can manage and lead? Are you prepared to follow a business model? And how do you feel about adopting someone else's marketing strategies? These are just a few questions - and your answer doesn't have to be 'yes' to mean success.
Owners who have previous business experience and are able to adapt to the brand's franchise model may be more likely to succeed than say those who are new to the business world entirely. However, if you're someone without that experience - there are ways for you to get your footing fairly quickly in the business. Franchisors typically provide training and support to help new owners get started and acclimated, but it's still important for franchisees to have a solid foundation of knowledge and skills to build upon.
Here are a few characteristics that could make someone an ideal franchisee:
Commitment to following established systems and procedures
Willingness to work hard to grow the business
Good communication & customer service skills
Ability to adapt to changes in the market
Openness to learning and implementing new ideas
Level of Support
The second factor that could impact the success rate of a franchise is the amount of support a franchisor gives to its owners. So, for franchisees, this means choosing the right brand that gives you the support and training you need and want to feel successful.
It's important to note that franchisors want their owners to succeed. They have a stake in the business, too, and often provide ongoing support through marketing, operational assistance, and access to resources such as training and business materials. With this type of support, it's no surprise that franchisees would have more success when working with an established brand rather than facing the challenges of running a business on their own.
There's a wide range of support you may see a franchisor provide their business owners:
Training: Many brands offer training to help franchisees learn how to operate their business successfully. This could include initial training at the company's headquarters and frequent follow ups throughout the start-up process and beyond.
Marketing: Established franchises with a successful track record usually have tried and true marketing strategies. These are for the franchisees benefit, as they have a tested method to promote business and get customers in their doors. Also, the brand reputation (which we'll get to) plays a part in this. If the market is already familiar with a brand and their marketing, new owners may have an influx of customers at the launch.
Operations: When it comes to daily operations, such as hiring and managing employees, handling inventory, and following the business model - franchisors will support their owners through it all. They recognize the adjustment period, and often have mentors or existing owners in place for coaching purposes.
The Business Sector
When it comes to the success of a franchise, the business sector of a brand can be a major factor. Some industries, like food and home care services tend to be more resilient through economic storms. Other industries though, like retail and travel, may be more sensitive to shifts in consumer behavior.
Think back to 2020, when we were at the peak of the Covid-19 Global Pandemic. The consumer invested more time in their homes, health, and families - meaning some franchise sectors saw a boom. Remember, no matter what's going on in the world and economy, people will always need to eat, keep up with their home, and maintain care and education for their family. This is something to consider when choosing a brand.
That's also not to say these industries are completely resistant to recessions. Different industries may be impacted differently by an economic downturn in ways we can't predict. So, if your interests are with retail and travel, for example - you should still pursue that path. Your passion for the business you're in can sometimes be more impactful than the direction the economy is forecasted to go in.
Brand Reputation
Back to brand reputation! As we said earlier, if the market is already familiar with a brand, new owners may have an influx of customers come launch-time. This is a factor of franchise success that can be thought about prior to making the decision to buy that specific brand.
If you're a buyer in the research phase of owning a franchise, which brands are you considering? Have you heard of them before? If not, would you use their products or services? What is the general reputation? These are a few questions you can ask yourself to get a feel of how people in your community would accept this brand appearing in their city or town.
Additionally, there are several ways a brand's reputation can be influenced. To name just a few, these are things like the quality of products and services, customer service, ethical values, reaction to feedback, and marketing efforts. A "good" brand is something different to everyone, but in your search, take the time to look closely at the franchise - not only as a buyer, but as a consumer.
Market Conditions
Lastly, consider the market conditions when looking into franchising and how you can be more successful. Ask the right questions to determine how a brand might fare currently and in the future.
How in-demand are the products or services? What is the level of competition in the area you're looking into? To further that, where are you looking to set up shop and what is the target demographic?
As you can see, there are many questions to ask - and the answers may always be changing depending on, well… the market.
To help your search so you get a well-rounded understanding of the franchise industry and where certain brands stand, speak to a broker. They are experts in franchising, who can help you identify your goals and what's important to you in business and in buying one.
Franchising in the Midst of a Recession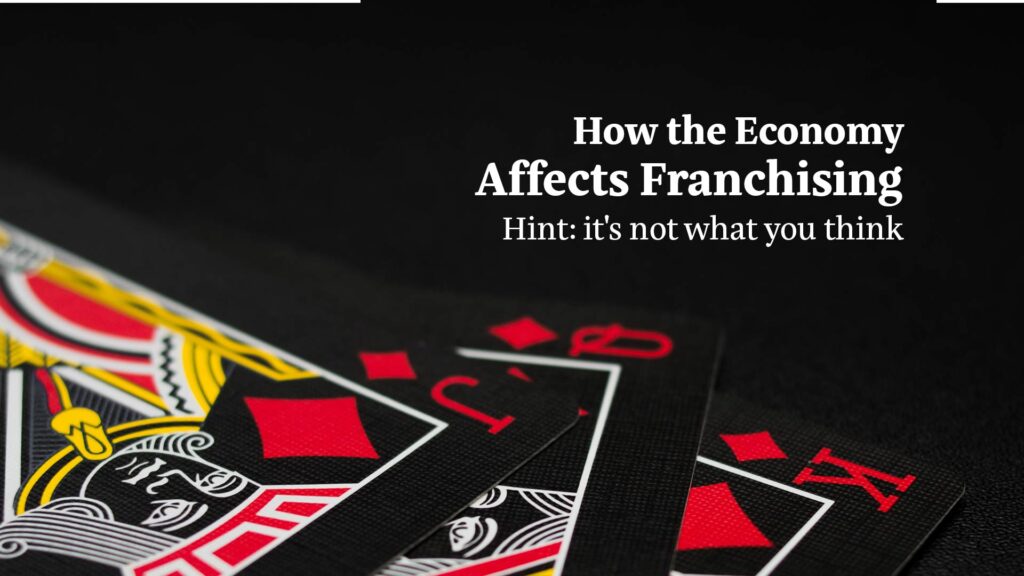 On the topic of market conditions, many potential buyers feel that during a recession is the worst time to invest their money in a franchise. However, that's not necessarily the case. Franchising can actually be one of the most resilient and rewarding career decisions - despite a poor economy.
Did you know that Disney, Airbnb, WhatsApp, Groupon, and Microsoft were all built in the midst of a recession? These are all now globally leading businesses that we know and use daily.
But yes, we know that starting your franchise career in a recession may not be that easy to muster, and it certainly can present you with numerous challenges.
However, facing them early in your career makes you even better equipped for when times may get tough again down the road. You will feel much more confident and able about navigating your business than if you began when the economy was at its strongest.
​​Additionally, one of the benefits of buying a franchise in this environment is you get more support from franchisors (one of the factors of successful franchisees). They are aware of the market conditions and have a vested interest in ensuring their franchisees are successful.
Franchise Employment as of 2022
Did you know that franchising is a critical component of the United States economy?
In 2022, the franchise employment was forecast to grow at 3.1% to a total of 8.5 million jobs. That's an increase of nearly 257,000 jobs compared to 2021.
A large portion of businesses across the nation are franchises, and the industry has shown to come through the toughest of economic environments. Many of America's biggest franchises continued to grow through tough times - recall our example above, with empire companies being the proof.
Also, many people don't realize that recessions are an opportunity to gain wealth. The country is experiencing an overflow of stock, and as you know - people are spending less. When products and services take a hit, so does your money. To maintain value, you should consider something tangible to invest in.
Real estate is sought as a form of investment, but now's not the time to buy. The next best thing, however, is buying a business. You'll have a physical asset that will appreciate over time and give you control over hiring, hours, and lifestyle. Plus, with the extra cash you make, you can generate more wealth.
You can read more about this in our article, "Invest in Yourself - Even in Hard Times"
Franchise Failure vs. Independent Business Failure
If you're considering buying a franchise for your next investment, but are holding back due to fear of failure - what's your alternative? People with entrepreneurial spirit like you usually want the freedom that comes with being your own boss. We understand that.
However, independent business owners have their own hurdles to overcome as well. Like we said at the very beginning of our article…with any business venture, there is always risk of failure.
So, we've compared and contrasted franchising vs independent business, so you can see which business opportunity is worth the risk.
Franchises…
Have a higher initial investment cost, as buyers must pay a franchise fee and may have to purchase space and equipment before they launch. This can make it more difficult for a franchise to recover from financial setbacks or failure, since the buy-in is greater.
Often have a reliable business model, which can provide a sense of security and stability for owners. However, this can also limit the flexibility for the franchisee to make their own decisions and adapt to changing market conditions how they see fit.
Utilize the support and resources of the franchisor, which can help franchisees navigate challenges and uncertainty. However, this support can also come with strings attached, as franchisees may be required to follow certain guidelines according to the business model.
Independent Businesses…
Have lower initial investment costs, since there are no franchise fees or mandatory purchases from the business owner. This can mean quicker recovery if hit by financial setbacks or failure. Essentially, there is less investment to lose.
Typically have more flexibility with their business model, which can allow them more creative freedom. However, this can also make it more difficult for independent businesses to scale and grow, as they may not have the resources or support of that established brand.
Are responsible for all aspects of their business - they are building from the ground up. From marketing and sales to managing their own finances and customer service strategies. This can be really challenging for people who may not have the prior history as a business owner, who find they are now navigating on their own.
Don't Fear Franchising. Success is Always up to You.
We know there's not only a lot to consider in this article, but also in your decision to buy or not to buy a franchise. The truth is that the success statistics vary everywhere you look for answers. However, we want you to be informed and confident throughout your discovery process. In other words, you don't have to fear franchising.
Our association has helped tens of thousands of people buy a franchise opportunity and find the freedom that comes along with that purchase - all through our network of world-class trained brokers.
Today you could get on the phone with your broker and start asking all the questions you have - that perhaps a search online won't answer. Brokers service you at no cost, because we all believe that GOOD, honest guidance should not come at a price.
Get in touch with us today by calling (866) 395-4697 or visit our website at www.franchiseba.com to learn more about the opportunity to become a franchise owner.
After your call, you may never ask what is the failure rate for a franchise again. Success is always up to you. Take the first step toward freedom today.