New SPENGA Franchise Delivers Spin, Strength, and Yoga to New Jersey
Friends since college, Lina and Lin were looking for a new business opportunity – and FBA broker Amanda Ramirez had the perfect solution. In partnership with Franchise FastLane's Carin Skowronsky and Bobby Brennan, Amanda helped Lina and Lin discover the SPENGA Studio franchise. Now, the fitness studio is coming in hot with a new location in New Jersey.
A Market Disruptor
SPENGA studios blend spin, strength, and yoga together to create a totally unique workout. With mottos like "Ride it like you stole it," and "No one ever drowned in sweat," SPENGA promises to push every member to be their best in each 60-minute session.
As the fitness industry continues to grow, it's imperative that new brands offer their audiences something new. SPENGA is just that. With a focus on results and the consumer, it creates a unique fitness experience. Unlike any other boutique studio in the market, SPENGA is a disruptor – and the formula works. Not only are the workouts effective, but the franchise structure is successful too. The brand has recently been named a top franchise concept and already has over 260 locations. With a recurring revenue model, simple operations, and low opening costs, SPENGA's steady growth as a franchise is hardly surprising.
Discovering the SPENGA Difference
Both Lina and Lin brought years of experience to the table. With a degree from Fordham University in Economy and Finance, Lina spent more than 10 years in the financial industry helping clients independently assess market value and risk. Through this, she developed great knowledge in risk management, policy and procedure. Lin, too, offered years of finance experience and strong business acumen.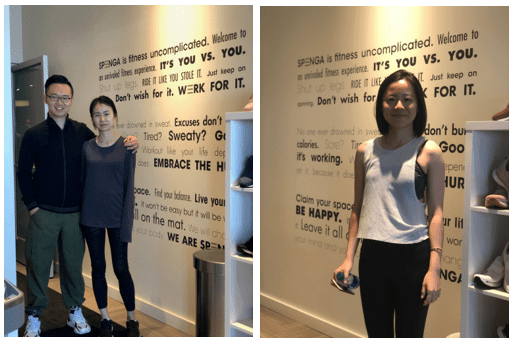 As Amanda navigated the pair through the franchise discovery process, she learned more about their passion and goals. With their strong leadership skills and drive, she knew they could be the perfect fit for the fitness brand. Beyond its impressive workout model, she knew SPENGA could fulfill each of the qualities Lina was looking for in a franchise: it offered recurring revenue through its membership model, semi-absentee ownership through hiring an independent manager for the location, strong brand leadership, and a unique overall business model. She introduced Lina and Lin to the rapidly growing franchise and encouraged them to join SPENGA's Discovery Day.
Already fans of the brand, the college friends were thrilled to visit Naperville, IL to learn more about the SPENGA difference. There, they spent two days discovering why exactly the SPENGA workout is the best ever and how they could introduce it to a new audience. Supported by the brand's innovative and strategically minded leadership team, Lina and Lin found that it was an easy decision to join the SPENGA family.
Having successfully guided Lina and Lin to their perfect franchise, Amanda is grateful to have partnered with Bobby and Carin, describing them as a "powerhouse team." Now, she is eager to see how Lina and Lin can bring their passion to their new SPENGA studio in New Jersey. Congratulations to Amanda for ensuring this franchise expansion worked out – without even breaking a sweat.
---
Interested in opening your own SPENGA franchise? Contact us to learn more.