The Crumbl Cookies Concept - there's not much about it that doesn't work. The rapidly expanding brand seems to have everything people love. Cookies, Creativity, and "Coming Soon" on store fronts all over the country.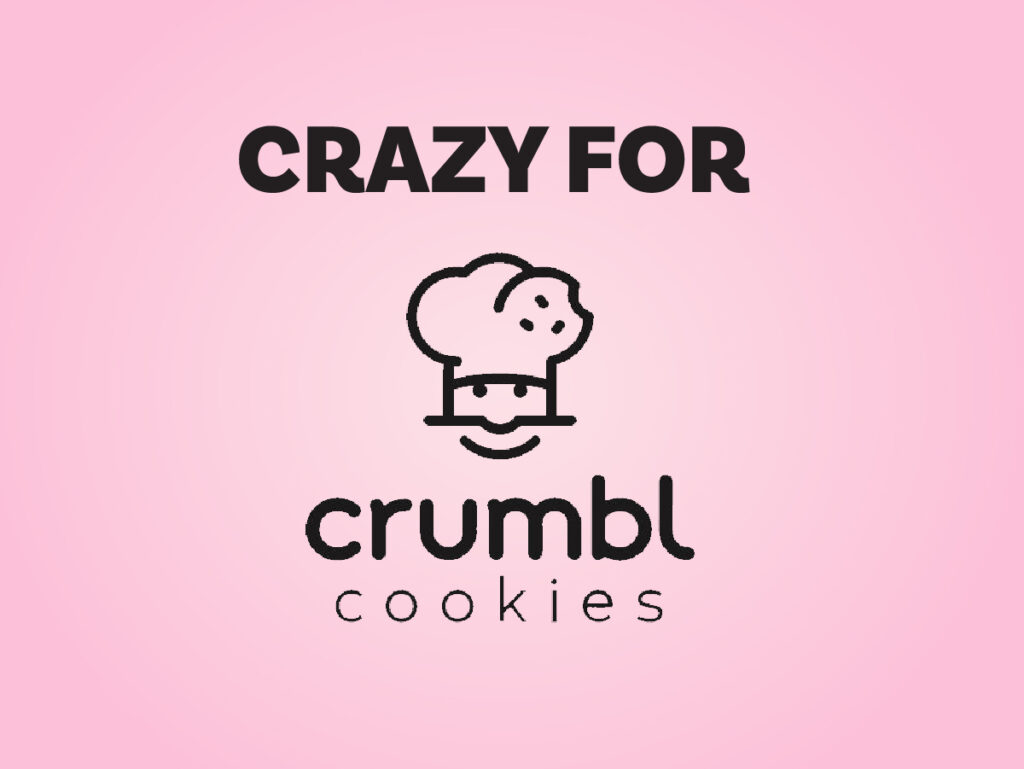 If there's one thing we know, it's that people flock to find interesting ways to consume sugar. This means Crumbl has an advantage for becoming a fairly profitable franchise. The concept itself also brings appeal - choose between exclusive rotating flavors that only last till the end of the week? It's an immediate yes for the average sweet's lover.
And if that wasn't enough, the business model has proven to be an opportunity that makes money back on an owner's investment in the first few years.
Getting in with Crumbl
All this sounds great, right? But with most good things, there is a drawback when considering the Crumbl cookies franchise.
The raging popularity and attention in the last few years means the brand has some competition.
In fact, the Crumbl Cookies concept is almost sold out across the country. If you look at the current availability for the United States, 70% of the available franchise has a current and operating owner. And the number is likely even higher than that. What you don't see are all the future owners who have purchased a license and just have yet to set up their location.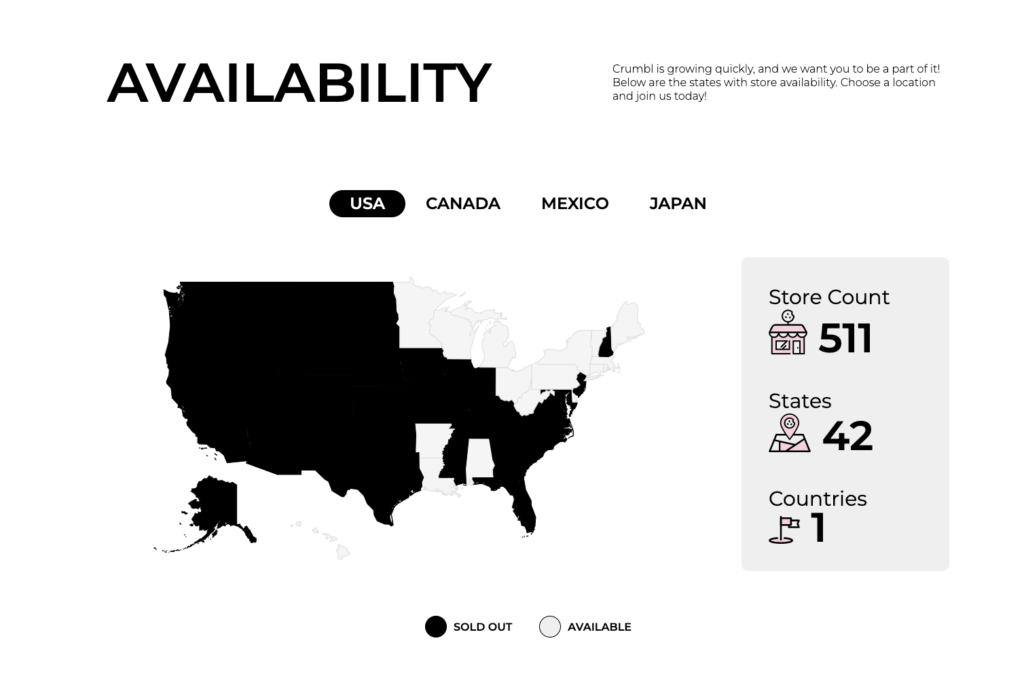 With "Coming Soon" on store fronts everywhere, you'll likely also see "Sold Out" for the Crumbl Cookies concept in the near future.
So, what are your options?
Check out this other sweet concept
Ever heard of Duck Donuts?
Here's their story...
"The idea and name for Duck Donuts originated in Duck, North Carolina, where my family and I vacationed for many years. We enjoyed all there was to see and do in the quiet, family-oriented town, but we noticed there was nowhere to get that sweet staple of happiness—a warm, fresh donut. What started as a whim developed into fun recipe sessions, many months of research and collaboration, and eventually led to the first Duck Donuts opening in the town of Duck, NC, in 2007!

We soon found that our warm, delicious, and made-to-order donuts paired with a great selection of coffees were a recipe for success! We expanded to other locations and states and added many franchise owners to our Duck Donuts family. Along the way, we have kept our focus on delighting our guests by offering a welcoming, family-friendly and delicious experience to everyone that visits one of our shops. The teams who manage and work in our stores make all the difference and we are very proud of their dedication and contributions."
Duck Donuts is a recent brand in our inventory, and they have already stirred up excitement with our members and potential franchise buyers.
Deciding on Duck Donuts?
For Duck Donuts owners, this franchise opportunity means more than just making a good business investment - they care about they impact they make in their community, too.
Franchisees enjoy a few of these sweet benefits:
Unique made-to-order options
Opportunity to earn sales throughout the day with breakfast, snacks, sweets, and drink orders
They operate with simplicity in mind - costly equipment is not part of the business model
Completely supported concept and training for owners
Highly value-driven culture at the corporate and individual location level
And there's more... availability in the country is open!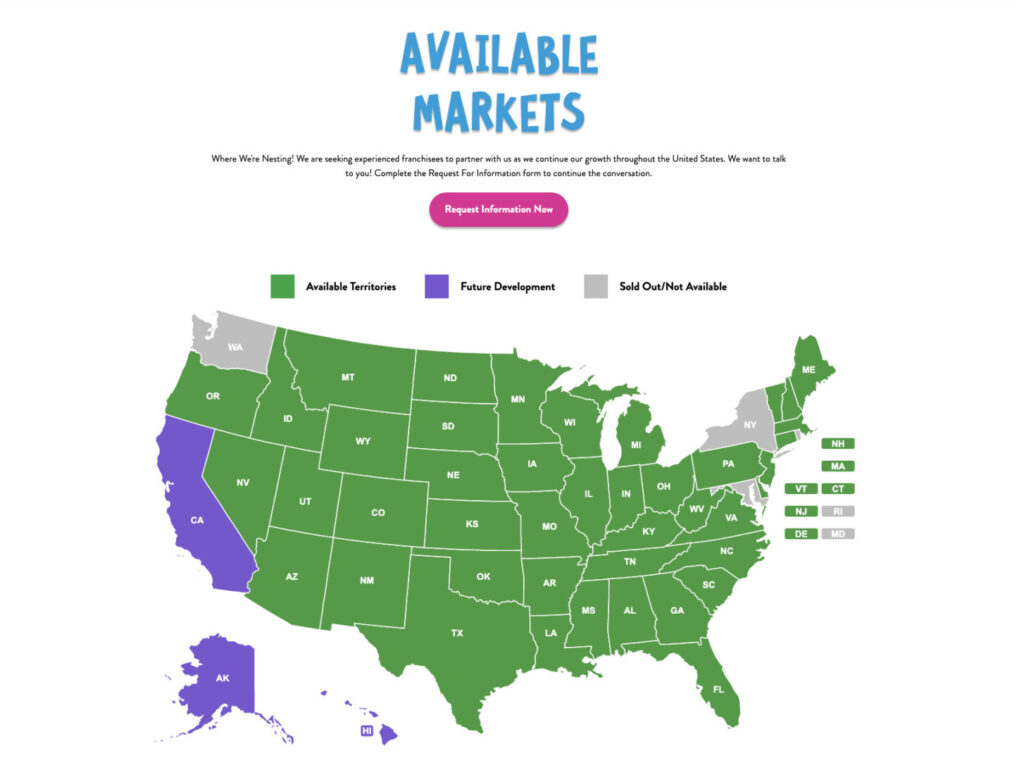 The Crumbl Cookies concept we already looked into had limited options for those interested in the opportunity. However, the Duck Donuts concept is catching on and has the potential to get in on that Crumbl type craze.
Do you see green in your state? Let's talk about it!
Want to help grow the Duck Donuts franchise?
If you're curious about an opportunity like the Crumbl cookies franchise or want to get some tangible information on Duck Donuts right now, we would love to help.
At FBA, we connect interested people like you with our brokers who can help determine a good franchise fit for you and qualify you for the opportunities you're seeking.
We would love to get a call scheduled with you, so feel free to visit us at www.franchiseba.com to book, or give us a call today at (866) 395-4697 to speak to one of our specialists!