Welcome to FBA's franchise news destination! Read the latest success story submissions from our franchisor members and hear what they're saying about finding success in franchising.
A majority of our franchisors work with FBA brokers to close deals every month and find the right candidate for their business.
There's something franchise news related here for everyone, no matter if you're a broker, buyer, franchisor, or are simply curious about what others are doing with their entrepreneurship.
If you read something that sparks an interest, please reach out to us! You can visit our website www.Franchiseba.com or call us at (866) 395-4697.
Success Stories
September, 2022
Date Purchased: 09/13/2022
Location: Coon Rapids, MN
Units Purchased: 2
Carson was brought to us in January by Zack Klinger with FBA. Zack is a newer consultant and is friends with Carson from their past employer. Carson has been in telecom sales for most of his career and is sick of sitting behind a desk and cold calling. To complete the process, he needed to sell his house, buy his new house, and secure an SBA loan for his business…all in sequence so not to disrupt his credit and disqualify himself from his lending needs. We tiptoed through that process for the past 6 months and are excited to call this official!
Mobility City Of Las Vegas
Date Purchased: 09/12/2022
Location: Las Vegas, Nevada
Units Purchased: 1
Our franchise journey started when we could not find an existing business to buy. By the time we found one we were interested in and did our research, it would be under contract. We started thinking about a possible start up, but weren't exactly comfortable with the unknown success. That's when the idea of a franchise came up. A start up with existing brand recognition sounded good. A broker we were working with at the time recommended Lance Graulich as a Franchise Broker. We were pitched about 5 different franchise opportunities a week and we would do our due diligence on each one to see if it was a fit for what we were looking for. We were fairly far along in the discovery process with another franchise when we got pitched Mobility City. We liked the business and started weighing our options between the 2 franchises. After finding out the other franchise wanted a minimum commitment that I was not comfortable with, we started our dialog with Mobility City. Mobility City checked all the boxes we were looking for in a business. We started looking at Mobility City in February and made our Franchise Fee Deposit in May. Our storefront location will be opening sometime around 12/1.
August, 2022
Mister Sparky Electric
Date Purchased: 08/18/2022
Location: Alvin, Texas
Units Purchased: 1
Mister Sparky Electric announced today the signing of its newest franchise location in Texas. Located in Alvin, Mister Sparky Electric is pleased to welcome John Tornabene as the newest member of the franchise network.
The location, which will officially open in this Fall, will provide premium Electrical installation, maintenance, and repair services to the surrounding area in Alvin.
John said of his reasons why he chose Mister Sparky Electric, "the franchise allows you to start from third base. The step by step plan is probably what I needed most to make the decision to go with Mister Sparky".
Mister Sparky Electric is seeking franchise owners in markets across the United States.
July, 2022
ShackShine & FBA Broker Jaime SanchezClose a Deal
Date Purchased: 07/21/2022
Location: Austin & San Antonio, TX
Units Purchased: 4
Shack Shine continues to have a strong year with a few more FBA deals closed, this time with consultant Jaime Sanchez!
Our newest Franchise Partners were introduced to us by Jaime and both are named Eduardo and are E2 Visa candidates relocating from Mexico to Austin and San Antonio respectively.
Both are successful entrepreneurs back in Mexico but wanted to relocate to the US to change up their lifestyle for their families.
What attracted them both to Shack Shine was the support which was later validated after attending our Discovery Day, the opportunity to scale a business and lead multiple crews, and our familiarity with the E2 visa process.
What is Shack Shine?
Shack Shine brings together several fragmented industries under the innovative 'house detailing' category. You've heard of car detailing: when you pick up your car it's shiny, looks like new, and you drive away feeling like a million bucks. Shack Shine does the same – but for the exterior of your home.
Mobility City
Date Purchased: 07/01/2022
Location: Lakeland, Fl
Units Purchased: 1
When Venessa and Ambrose first met with their broker, they were given an option of three franchises which they spent some time perusing. Mobility City stood out because they loved the fact that it gave them a sense of caring for others by giving back to the community, especially to the folks who are sometimes overlooked. Venessa said "We oftentimes take for granted the gift of functionality, because no one must assist us physically, or we do not need an aid. Mobility City fits perfectly into our family life in that we are now able to spend quality time together having a nine to five job. Thank you, Vinny and Diane, for giving us this grand opportunity of embarking on new beginnings!"
Teriyaki Madness
Date Purchased: 03/25/2022
Location: Hamilton, OH
Units Purchased: 1
Kush Patel and his family own and operate multiple gas stations and a smoke shop with plans on continued growth! Kush was introduced to Teriyaki Madness from his cousin and current TMAD franchisee, Kirti Patel, who serves the Nashville, TN area. With some insight from Kirti, and Kush's passion to grow and diversify his family portfolio, he chose Teriyaki Madness and will open his first shop in Hamilton, OH!
"I learned that Teriyaki Madness gives incredible support through the entire process, and I want to grow my businesses and TMAD is a growing franchise, so it was a perfect fit!" - Kush Patel
Teriyaki Madness continues to see rapid growth with an Average Unit Volume of $1.16M* and a 32%* stacked same shop sales growth (2021 vs. 2019). Those numbers, combined with nearly 80 new shop agreements signed in 2022, make TMAD an attractive franchise for those like Kush and Kirti who are wanting to grow and diversify their portfolio.
One Hour Heating and Air
Date Purchased: 06/30/2022
Location: Cape Cod, MA
Units Purchased: 3
The location, which will officially open in this Fall, will provide premium HVAC installation, maintenance, and repair services to the surrounding area. "Rahul & Swati are very passionate about business ownership. They understand how to build a team and follow a proven system. They will be a great addition to the brand" said Michael Hutchins
Owner Rahul Bhatia said of his decision to purchase a One Hour Heating & Air Conditioning franchise, "I was looking for an essential service and a franchise were the financial numbers worked, One Hour Heating and Air fit the bill".
Rahul said of his experience with Michael, "Michael was fantastic to work with and very supportive".
June, 2022
HomeSmiles had Multiple Deals!
Deal 1 -
Date Purchased: 06/01/2022
Location: Santa Clara, CA
Units Purchased: 1
HomeSmiles Santa Clara franchise was just awarded a $250K+ contract for exterior maintenance services for a local University. This is the second $250K+ contract award to this franchise location from this client. The recurring revenue concept is clearly substantiated by this award as well as HomeSmiles 90%+ returning customer rankings.
Our HomeSmiles franchise location will be able to complete this project in less than eight weeks and drive significant profitability in excess of our established 20% Item 19 profitability.
HomeSmiles has shown that it's property maintenance aggregation model clearly resonates with clients. We are the Nation's first full service "one click/one call" property maintenance company and our clients love the concept.
Deal 2 -
Date Purchased: 04/22/2022
Location: Salt Lake City and Provo, Utah
Units Purchased: 2
HomeSmiles has been rapidly expanding its footprint as the Nation's leader in single source residential and commercial maintenance services. After originating in California, HomeSmiles has since franchised in Oregon, Nevada, Idaho, and now Utah.
With each franchised sale, HomeSmiles has learned more and more about its ideal franchisee for success. After two years, HomeSmiles has refined its core candidate to Professional, Independent, Proactive, & Entrepreneurial. HomeSmiles met a perfect match with the candidates from Utah.
HomeSmiles was introduced to Matt & Ken McLaughlin by Chuck McKinney of FBA. Chuck had a strong understanding of the core business model of our company. He understood the value of the aggregator model in the context of property maintenance services. He presented our model, along with other potential concepts and Matt & Ken chose HomeSmiles.
Chuck walked his candidates through our six step road map all the way to a discovery day in Redwood City, CA at the HomeSmiles Corporate office. Matt & Ken spent the morning with our sales and administrative teams followed by an afternoon with our field technicians on both residential and commercial site services.
When it was all said and done, they told us, "The choice is clear....we are going with HomeSmiles." When asked what really drove the concept home (no pun intended), they said, "This is a blue ocean company, no one is doing this but HomeSmiles." They saw what we so clearly see and understand here at HomeSmiles-Every rooftop is a client and every rooftop needs maintenance. The potential for growth and expansion in the property maintenance industry is endless and HomeSmiles is a first to market contept.
We are honored to have such great new franchisees onboarding to our platform. We look forward to watching HomeSmiles Utah take launch and become one of our most successful franchises to date.
Teriyaki Madness is On a Roll With Three Separate Deals
Deal 1 -
Date Purchased: 02/07/2022
Location: Boston, MA
Units Purchased: 3
Joseph Young knows a thing or two about the entrepreneurial spirit as his current successful Tax Consultant Business and his Floral Shop are now self-sustaining due to his resiliency and leadership. "I have always been passionate about business. I had my first business when I was 12 years old." Young stated. Now he can add three more to that list of businesses he owns as he has been awarded three Teriyaki Madness shops and will plan to open in the Greater Boston area!
"In business, I am most passionate about growth and teamwork and providing excellent customer service and Teriyaki Madness has a well-organized franchise team," said Young. Teriyaki Madness is growing at an exponential rate with a solid foundation in place to manage successful rapid shop growth!
Deal 2 -
Date Purchased: 02/22/2022
FBA Broker: Chuck McKinney
Location: Plainfield, IN
Units Purchased: 3
SP Singh is an experienced restaurant owner and operator out of Plainfield, Indiana, where he plans to open the first of his three TMADs. His ventures include Subway, Mountain Mikes, and Wings Etc. so from sandwiches to pizza, to wings… SP wanted to add more diversity to his portfolio and join the #1 ranked Fastest Growing Restaurant Chain by Restaurant Business!
After being referred to Teriyaki Madness from a friend and current TMAD franchisee, SP began his research on the Madness and was drawn to the transparency in the numbers,. "Putting the numbers there. That is pretty cool and transparent. It got my attention for sure!" Well SP, you caught our eye as well and we look forward to supporting and working with you every step of the way!
"Teriyaki Madness is a growing concept and I would like to get involved early on so I can develop a market!" – SP Singh
Deal 3 -
Date Purchased: 04/19/2022
Location: Florida & NW Arkansas
Units Purchased: 35
Chris McMillan, founder of the Panhandle Restaurant Group, signs 35-unit franchise agreement with Teriyaki Madness to add to his restaurant portfolio!
One Hour Heating and Air Gain Another Location
Date Purchased: 05/26/2022
Location: Jacksonville, FL
Units Purchased: 1
One Hour Heating & Air Conditioning, the largest HVAC service provider in the U.S., announced today the signing of its newest franchise location in Florida. Located in Jacksonville, One Hour Heating & Air Conditioning is pleased to welcome Jason Taylor as the newest member of the franchise network.
The location, which will officially open in this Summer, will provide premium HVAC installation, maintenance, and repair services to the surrounding area in Jacksonville. Michael said of Jason, "Jason is a veteran and retired police officer. He understands how to follow a system and build a team". "He will do extremely well in our system and is a fast-track opening candidate".
Owner Jason Taylor said of his decision to purchase a One Hour Heating & Air Conditioning franchise, "I found interest in One Hour Heating and Air because I researched the franchise process and I believe it will be successful".
He said about Michael, "I enjoy working with Michael Hutchins and he is an asset to the Authority Brands Company."
With more than 370 locations, One Hour Air Conditioning & Heating is the #1 largest HVAC service provider in the United States. With comfort and convenience, a top priority, the company offers an extensive
line of products and services, including maintenance, installation, and repair, that keeps HVAC units running at peak performance year-round. One Hour Air Conditioning & Heating is part of Authority Brands, the parent company to leading home service brands across the plumbing, HVAC, electrical services, residential cleaning, at-home care, swimming pool repair and maintenance, tree care, restoration, pet waste removal, and pest control services sectors.
May, 2022
HealthyYOU Vending & FBA National Trainer & Broker Amanda Vargas Close a Deal
Date Purchased: 06/02/2022
Location: Scottsdale, AZ
Units Purchased: 10
FBA Broker Amanda Vargas was helping her client Jason, a professor of Business living in Scottsdale, look for a business he could do that wouldn't consume huge amounts of his time and fit within his financial investment target. The healthy vending model seemed like a natural fit to recommend.
Jason looked at a couple of companies in the Healthy Vending category and really enjoyed the fact that he could come to HealthyYOU Vending's Discovery Day as part of his due diligence process. He enjoyed meeting people from every team that would be supporting him, including company CEO and President Jeff Marsh, and get a hands-on personal overview of the equipment he'd be investing in before he committed.
Jason stated that the in-person visit opportunity really helped him determine this was both the industry he wanted to get into, and the company he wanted to partner with in his future success. He also liked the option to expand his product offering in a location where it makes sense to - and his investment also included some of the SmartMart side vendors - which are an add-on option unique to HealthyYOU Vending.
---
Naturals2Go & FBA Broker Wayne Angel Close a Deal
Date Purchased: 05/25/2022
Location: North Richland Hills, TX
Units Purchased: 5
Paul is a top performer in the insurance game, recently won a company trip to Ireland, and he's also an avid golfer. Blair works in dealer services in GM. They are both highly organized and motivated to start their own business with Naturals2Go.
They chose N2Go for the proven systems that we offer, and are looking to ultimately build a business that they can work in together, and also perhaps build a legacy for their son who is aging into the work force. Also to create a 2nd strong stream of predictable income.
Both are very successful in their corporate careers, are very "customer satisfaction" driven and will be naturals in managing and building the relationships needed to grow their business with their accounts. Paul called many naturals to go owners, stayed the course over 5 months to continue learning about our program, while taking care of other business commitments....very determined and focused in their efforts.
---
Teriyaki Madness Close a Deal
Date Purchased: 02/03/2022
Units Purchased: 1
Sam Vu and his family recently moved to Frisco, Texas from Southern California where Sam worked for a healthcare company specializing in analytics for the last 20 years. Vu has spent his career working in the Healthcare Information Technology field and is very passionate about data and of course, food. Not just any type of food though, "I have always loved teriyaki chicken, and Teriyaki Madness has the best quality and the portions!" We love the attitude Sam, and we also are mad for teriyaki chicken.
Between Vu's commitment and the in-house TMAD team all working together, Vu signed his franchise agreement in February 2022. "There's no right time. The right time is when you're ready," Sam stated. No time was wasted, and no teriyaki was left behind!
---
PureOne in Northwest Atlanta Close a Deal
Date Purchased: 05/02/2022
Location: Acworth, GA
Units Purchased: 1
PureOne is a crime scene clean-up and restoration franchise model. Franchisees can develop multiple revenue streams, from crime scene clean-up and fire and water restoration to drug lab clean-up and hoarding clean-up. Franchisees are equipped with already established insurance industry relationships, a proven digital marketing strategy and an in-house call center. Franchisees also enjoy the largest protected territories in the industry.
Thanks to their coach's consistent collaboration throughout the development process, Don and Mary Snider are now PureOne franchisees in Acworth, GA!
With Don's executive level sales background, coupled with Mary's administrative and operational skills, they are perfectly suited to be PureOne franchisees.
Their coach presented PureOne to them because, as a service business, it has comparatively low overhead and very high net margins. More importantly, it gives its franchisees the ability to build a recession-resistant business in an industry where the customers have an urgent demand for our service, the bill is often times paid for by insurance companies and significant revenues can be built with comparatively few employees.
Don and Mary were particularly excited about getting in on the ground floor of a fast-growing, up-and-coming franchise system like PureOne, while, at the same time, being backed by an executive team with decades of successful entrepreneurial success.
---
My Favorite Muffin® & FBA Broker Chuck McKinney Close a Deal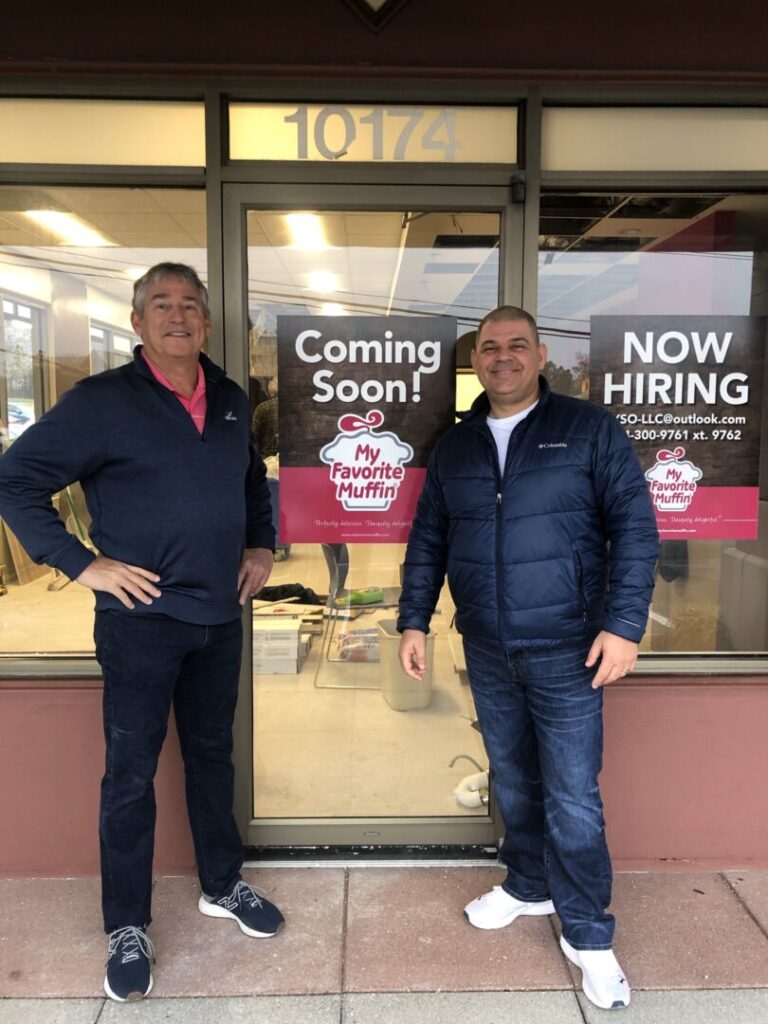 Date Purchased: 06/25/2021
Location: Henrico, VA
Units Purchased: 1
It has been over 27 years since Sam Makarem lived in the Richmond area, but he's back—and he brought his favorite franchise system with him. Sam grew up in Richmond, attending John Randolph Tucker High School in Henrico before getting his college degree in the Midwest. It was during that time outside of Dayton, Ohio, that Sam fell in love with a franchise concept known as "My Favorite Muffin®" and he never forgot about that experience.
"I loved going to My Favorite Muffin® when I lived in Ohio," Sam explained. "I went there so many times I started thinking about the possibility of owning my own store one day." After 20 years of living the corporate life, Sam is ready to stretch his entrepreneurial wings, opening his first My Favorite Muffin® shop in his hometown of Henrico in June of 2022. "My wife and I have been living and working in Dubai, but our daughters are now in college, and we are ready to run our own business and be an active part of this community."
Although My Favorite Muffin® was Sam's first choice for a business, he engaged the services of franchise broker Chuck McKinney to examine his options. According to Sam, "Chuck really helped me evaluate a number of different ideas, showing me concepts that aligned with other interests of mine and even raised a few franchise opportunities that I would not have thought about on my own. Once we narrowed our options, Chuck assisted with my due diligence and introduced me to others that I needed to make this dream a reality."
"It's great to be in love with a franchise concept," McKinney explained, "but it has to make good business sense if you are considering franchise ownership. Sam was really determined to study the unit economics and demographics of the area to make sure this was going to work. I was so happy to help Sam bring his favorite muffin shop back to his hometown."
My Favorite Muffin® Your All-Day Bakery Café offers a comfortable atmosphere for customers to enjoy breakfast or lunch, serving muffins, bagels, and a selection of breakfast and lunch sandwiches. Each mouthwatering muffin is hand-crafted with a combination of ingredients, fillings and toppings that create over one hundred different enticing varieties. "I can't wait to share this wonderful food with everyone in the area," exclaimed Sam. "I feel like this is a great opportunity for me to give back to my community."