If you don't know about the FYZICAL franchise, you're behind on the next big thing.
As franchise experts, who look at brands every single day, we realized this one was different. From the start, FYZICAL had our full attention because a brand with rapid growth and happy owners does not come around very often.
In fact, when we see brands expanding quickly - we often take it as a warning sign!
Why? You'd think rapid growth is a sign of success…
But typically, that success doesn't last long.
When a franchise experiences rapid growth, they need staff to support it. But in the beginning, when a franchise system hasn't stood the test of time or done proper trial and error, the infrastructure is weak, and it eventually topples. And if it doesn't, problems continue arising until lawsuits get brought into the mix. At this point, franchise owners are angry and disappointed with their lack of support, and they end up selling or closing the business.
You can see this under retention rate in a franchise's Financial Disclosure Document (FDD).
So now you must be wondering, what's FYZICAL's retention rate - since it's such an exciting brand to us.
Well, FYZICAL has a 90% retention rate of owners over a 3-year period, and they've achieved rapid growth over the last 10 years. This is very hard to pull off.
Want to know how this brand did it?
Founding FYZICAL
Fyzical Therapy & Balance Centers was founded in 2012 by Jim Abrams, an original franchise owner of Weight Watchers. He also founded several other successful national franchise brands - including Service Experts, Clockwork Home Services, One-Hour Heating and Air Conditioning, Benjamin Franklin Plumbing, and Mr. Sparky Electrical Services.
He started Fyzical Therapy & Balance Centers to offer physical therapy, balance retraining, fall prevention, sports rehabilitation, and individualized fitness and wellness programs. One of the USPs of the business is that the founder is tested and proven, too.
Within a few years, Fyzical Therapy & Balance Centers grew to more than 100 locations. Today, there are over 500 locations across 44 states, including 55 company-owned clinics.
For a moment, let's focus on those 55 company-owned clinics.
Do you know why we got excited when we saw this?
When a franchise invests in its own model, it means they are CURRENT and in the know about its products, services, and clients.
This is also rare to find in a brand.
Think about it… would you want a mentor teaching you something they hadn't done themselves in 10, 15 years? Maybe longer? No, of course not.
In franchising, it's no different. When the business has company-owned locations, it can test new products and services on those units before rolling them out to its franchisees. This saves time and money for everyone involved, and it helps build trust between the system and the owner.
You also wouldn't want your mentor giving you advice they wouldn't take themselves, right?
The fact that the brand is so good it invests in several locations is just another reason that FYZICAL is one of the fastest-growing health and wellness franchises in the country.
A Business With Recurring, Self-Serve Clients
Here's a not-so-fun fact…According to the NIDCD, it is estimated that approximately 40% of the US population will experience dizziness or balance difficulty over their lifetime.
If you've ever dealt with vertigo–or its unwelcome friend, nausea–then you know the majority of people will do whatever it takes to find relief.
In fact, anyone who has sustained an injury or suffered from a health condition would agree that finding the right treatment is crucial to healing.
This is where FYZICAL comes in.
The self-serve dynamic is one attractive part of the business model. People are finding your clinic through insurance, referrals, or reputation - this is the core of the business and takes the pressure of intensive marketing off the shoulders of its owners.
Also, for people with major conditions and injuries, treatment is not an option - it's a matter of life or death. That statement may seem extreme, but most people would agree that as treatment increases, so does quality of life. It also means recurring customers.
But at FYZICAL, it's not just about treating the symptom - it's about making a difference in patient's lives and watching the quality of their life improve day by day.
A $50.26 Billion Industry that Keeps on Growing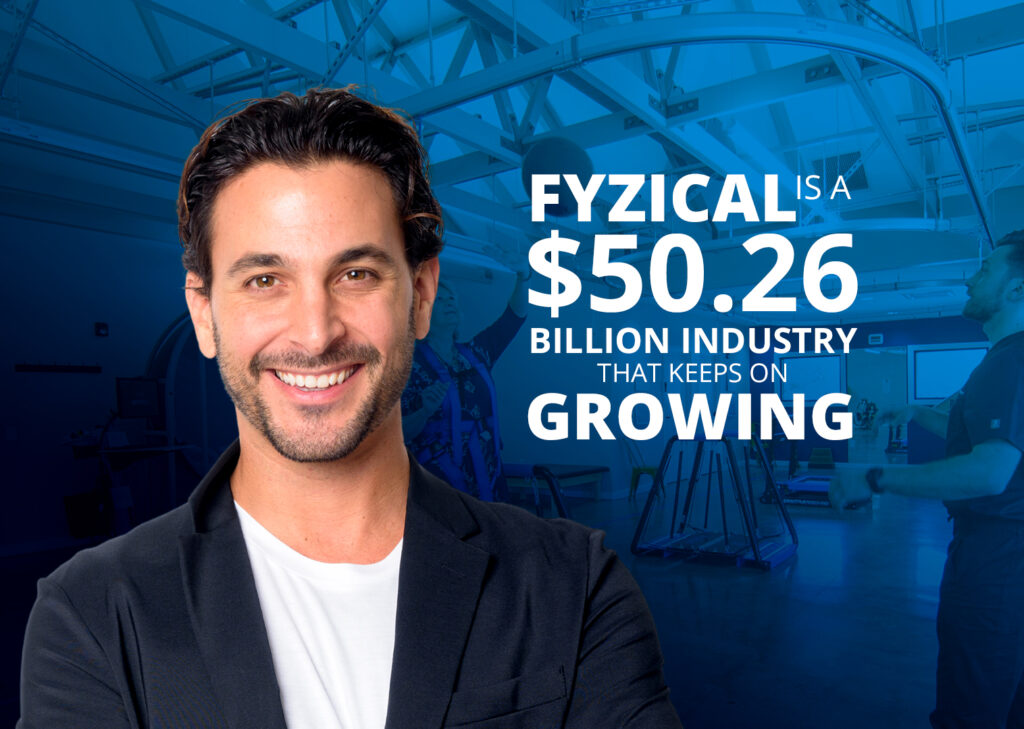 The Physical Therapy industry shows no signs of slowing down after grossing over 50 Billion dollars last year. This is fueled by the aging population, early hospital discharges and mobility issues due to obesity and diabetes - on top of other major conditions. PT has proven to be an effective treatment in these cases and has become the go-to option for patients seeking long-term relief and management. All this to say that the industry is forecasted to grow by 5.4% annually!
Not only is the health and wellness industry booming–due to a global rise in medical issues and health consciousness– but FYZICAL was named the #1 Physical Therapy Franchise by Entrepreneur Magazine (for six consecutive years!) and is currently ranked #240 in Entrepreneur's Franchise 500.
However, physical therapy is not the only player in health and wellness. Doctors, surgeons, and other medical specialists are all part of the equation. Think of it like a symbiotic relationship.
Prior to PT, patients usually see their doctors to get an issue assessed. It's after immediate treatment that specialists will recommend them enroll in a physical therapy program.
So, investing in FYZICAL is not just a bet on physical therapy but on the healthcare industry as a whole - which is projected to reach a value of $6 trillion by 2025.
And consider this…
When you buy a FYZICAL franchise, you get the prestige and press that comes with working in the medical field - minus the years spent earning the degree. Your circle of influence grows as well, because now you get to network with the top professionals in healthcare. This means respect, attention, and more media coverage!
What Marketing Wants: Heartwarming Stories
On the topic of marketing - which stories do well in the media?
Heartwarming ones!
As a FYZICAL owner, you are creating opportunities for patients to rebuild and reclaim their lives from the conditions that stole them in the first place. And this type of business draws in free media coverage and marketing because of that mission.
If you're reading this and know anything about marketing - you know it's one of the biggest ongoing expenses in a business. So to have recurring clients, a good reputation, and basically free press - you'll save a lot of money.
What it Takes to Own a FYZICAL Franchise
Ideal candidates for FYZICAL are individuals with strong business acumen, experience leading teams, and who are comfortable with networking to promote their brand.
In addition to these qualities, successful owners typically come from a variety of backgrounds - including B2B sales or business ownership, experience in the healthcare industry (not as a medical professional, but in the industry in general), sales roles, and technical positions like engineering and IT.
Is that you?
If so, here's what it costs to become an owner:
Liquidity: $100,000
Investment Range: $155,750 - $473,000
Average Investment: $370,000
Keep in mind that this includes everything you need to get started, from initial training to ongoing support.
Who are Employees of FYZICAL
The reality is there aren't many franchising options that allow owners to stay in a white-collar profession.
Oftentimes, prospective buyers are looking for food, home improvement, and entertainment concepts - just to name a few. Industries like these typically attract blue-collar workers, whereas FYZICAL is a white-collar profession.
What does this mean?
FYZICAL employees are professionals serious about their roles and are easy to manage and retain. Why? Because this is not just a job to make a living - it's their passion, too.
Imagine how nice would it be to have employees who are skilled, motivated, and incentivized to show up every day, make a difference, and drive home more business?
And that's not all… there's only a need for 3 to 5 employees! A physical therapist, receptionist, and marketer. However, additional employees can be added as the location develops.
A Typical Day in a FYZICAL Clinic
For owners, a typical work day is focused on managing and developing the business to maintain the success we've been talking about.
Fyzical is a full-time investment that requires active management to maintain its unique combination of being well-established, having a low employee count, and offering high-quality services.
The business operates from 8-6 during the week, providing employees and the owner with a healthy work-life balance, since the clinic is closed on weekends.
The FYZICAL Difference: What Makes The Brand Stand Out
What makes FYZICAL different from any other physical therapy brand? Balance.
It's literally what makes them stand above the competition.
The clinic's proprietary balance therapy uses a combination of strength training, range of motion exercises, and balance training to reduce the risk of falls - a major cause of death amongst the elderly. The program is customized to each patient's needs and goals and is designed to be challenging and engaging.
In addition, FYZICAL offers a range of other physical therapy services. The team of licensed therapists is experienced in treating conditions such as orthopedic injuries, sports injuries, neurological disorders, and more. With this comes the ability to add cash-based services - for example, hearing aids (which are extremely profitable).
We also think that the clinic designs deserve a mention… have you ever seen one?
When customers walk into a FYZICAL clinic, they're not met by the standard, sterile doctor's office experience. Instead, they step into a clean, bright, and energizing environment that helps them see the potential of their healing.
Think about that impact on the patients…
How people feel when they walk into a store, restaurant, or clinic is part of what makes them decide if they'll be coming back.
FYZICAL's Financial Track Record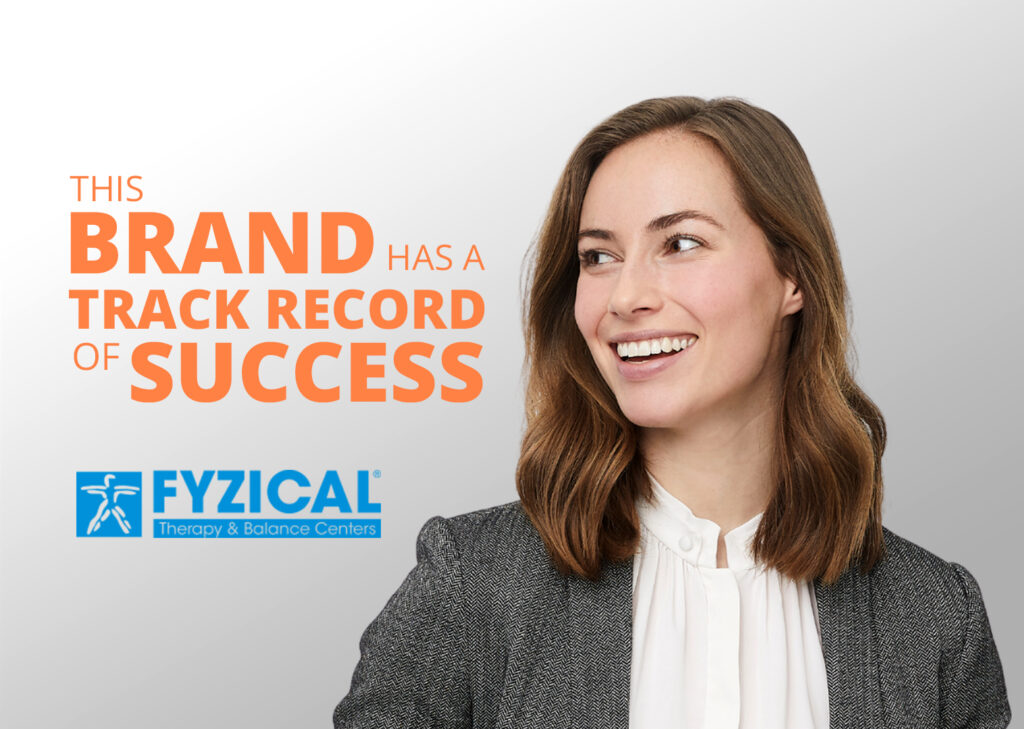 We know that the industry as a whole is making money - and a lot of it. But what about FYZICAL itself?
Let's take a look at the highlights of the brand's 2021 FDD:
The average company-owned center generated over $956k in revenue in 2021
Same-store sales average growth of 19.2% when comparing 2020 & 2021
The adjusted EBITDA % for company clinics in 2021 was 22.4%
The highest grossing franchise owner in 2021 did $7 Million annually
FDDs can be difficult to digest. If you'd like an in-depth overview of this brand's financials and other facts about the business - get connected with a broker, and they'll walk you through it.
8 Other Reasons Buyers are Investing in FYZICAL
Owners benefit from buying this business in several ways. Whether you're an experienced entrepreneur or someone seeking to grow your own franchise for the first time, FYZICAL provides you with unique opportunities for growth, financial stability, and personal fulfillment.
Here are 8 perks that come with owning this franchise…
Quick Startup. The streamlined startup process allows franchise owners to open a new clinic within 90-180 days of signing the franchise agreement.
Partner Discounts. FYZICAL connects its owners with vendors who offer special partner discounts to help reduce start-up costs.
Location Support. The brand's team of experts assist owners in finding the best location and planning the build-out to increase the likelihood of success.
In-depth Training. Owners receive comprehensive training and support on everything from bookkeeping to marketing and attracting new patients. This includes a four-week training process, a three-day in-person lab, on-site education, online instruction courses, webinars, training videos, and more.
On-site Support. On-site training and assistance is offered at every center to ensure that owners are set up for success even after launching.
Marketing Support. The franchise system generates local marketing campaigns to attract prospective patients in the new owner's location.
Multiple Revenue Streams. With FYZICAL, owners are able to branch out and build a practice that serves as a total wellness center - not being limited to select services.
Exit Strategy. With a brand that helps owners build value in their locations and see the largest return on their investment, owners are able to leverage this success to expand to other entrepreneurial investments.
Franchising Options
Wait, there's one more perk of the business opportunity. With FYZICAL, you can start with one location, multiple, or grow over time.
FYZICAL is a unique franchise model that offers a flexible approach to entrepreneurs looking to invest in the health and wellness industry. New owners can start with a single location and expand as they like and as the business grows.
Do you want to become a single-unit owner, multi-unit owner, or master franchisee?
With FYZICAL, you have the choice.
Get Moving with FYZICAL
This brand is a great investment to consider, if you're a buyer looking for a rare franchise that...
Is quick to start
Requires 3-5 employees
Has happy, supported owners
Maintains positive cash flow
Is in a prestigious industry
Supports a healthy work, life balance
Positively impacts the community
Is the #1 Physical Therapy franchise in the WORLD!
These aren't just bullet points - it's FYZICAL's visual representation of success...and it can be yours, too!
If you're interested in learning more about this franchise, please visit our website at www.franchiseba.com or call us at (866) 395-4697.
We connect professionals looking to franchise with expert brokers in the industry - at no cost to you!