Since 2010, Mosquito Joe has made its mission to become a leader in the pest control industry while sticking to its family values. This is why Mosquito Joe is your family franchise.
Mosquito Joe is a nationally known brand with 300 locations in 35 states. In fact, Entrepreneur magazine puts it in their top 500 franchises for 2022. And while a majority of the company's franchisees are husbands, wives, mothers, and fathers, they are also business minds who recognize a major benefit of the business model - the scalability.
The Simon Family
To give you a better idea on the growth potential, let Brad be your example.
Brad, and his wife, turn business partner Stephanie, are just two of Mosquito Joe's success stories in achieving scalability with this family franchise.
While he had a prosperous career at the executive level, Brad wanted to leave the corporate world. And Stephanie, teacher, and mother of three, wished for more time at home with the kids. They wanted to achieve the right balance for their family while still maintaining their comfortable lifestyle. Finding a revenue-generating business was key.
After discovering Mosquito Joe, and signing on as their first franchisee, Brad purchased one territory with one low investment. They now own all 15 territories in Arkansas.
How did they scale their family franchise? They followed Mosquito Joe's formula for success: patience and superior customer service.
The timeline to reach this type of territory ownership is around the three year mark. Which all considered is an incredible number.
During the first year, it's all hands on deck. There is no shortage of calls coming in. But the idea is you spend the first year IN the business so you can spend the following years ON it.
Mosquito Joe sees a higher percentage of couples wanting to break into the family franchise business for this very reason. Put in the hard work now and your profits continue to pay off.
---
But what about years two and three? Before you expand, you must know where to look...
After the relationship building and brand validation is established, it's time for a targeted marketing strategy. During year two, Mosquito Joe franchisees look for territories in need of quality pest control. The great news is, people are constantly reaching out to the company.
60% of callers are women - typically mothers and homeowners in search of reliable pest control services for their family. When the calls come in, our franchisees in the targeted marketing stage are being built a a map to the best areas to expand in.
By the time year three rolls around, territories are mapped, acquired, and maintained - leading to Mosquito Joe's high praise for pest control in the US - and a great reputation for being a top family franchise.
Their Success Could Be Yours, Too
There are other stories like Brad and Stephanie's. It's not uncommon to find Mosquito Joe franchisees who've earned their MBA.
Going back to the business minded person - these are the types of people that this brand loves to work with. Not only do those with business backgrounds generate amazing ideas and opportunities to find more leads, they also understand the importance of relationship building and the time it takes to nurture a deal into closing.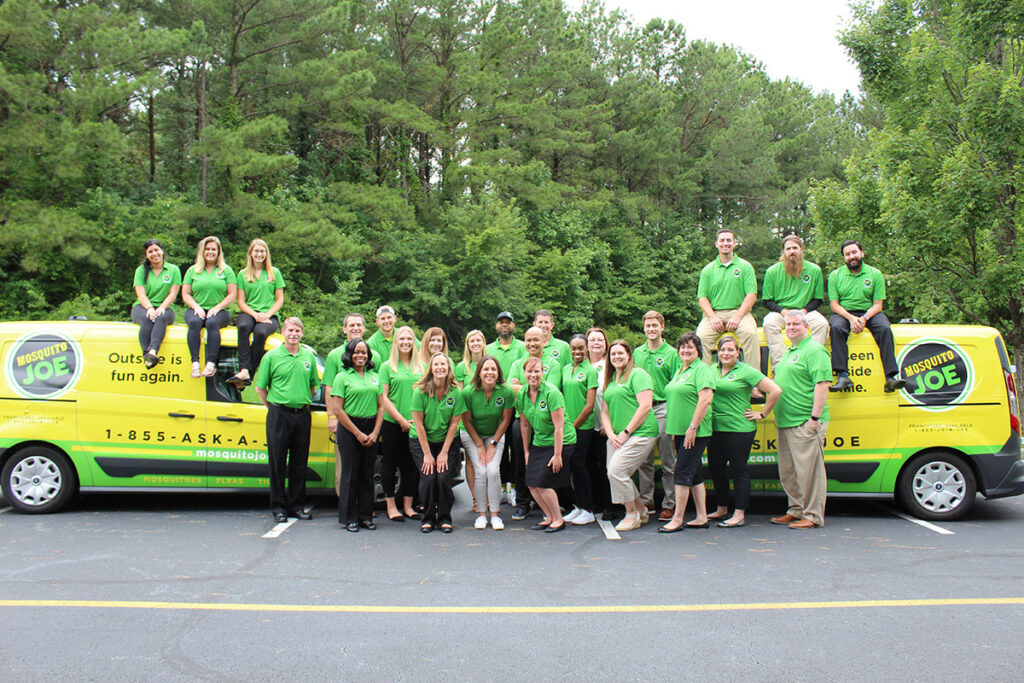 ---
If you are looking for an opportunity to transition out of your current 9 to 5, be your own boss, and join a growing team of franchisees, then you've found your family here.
These are people just like you, who have taken their time back from the corporate world and invested it into themselves and their families instead.
This could be the legacy you leave behind.
Let's Get Connected
Do you want to start a mosquito franchise?
Here at FBA, our brokers can help connect you with Mosquito Joe and set you on a track toward better balance in business.
Are you ready to find your franchise or business opportunity? Contact an FBA broker to get started!