This is a franchise for WHALES - it's the Launch Trampoline Park franchise.
Whales are those investors that are always open and looking. They have the capital to do it, but it takes a lot for them to say yes to an investment.
Why? Because Whales want compounding assets that are easily leveraged.
The compounding assets are: investments that have multiple lines of production. In a Launch Trampoline Park franchise, there are three main wealth building avenues. The franchise (revenue producing), the equipment (revenue producing), and the real estate (equity producing).
Easily leveraged models are businesses that have asset backed lending options - such as equipment and real estate loans.
Equipment purchases typically have lower interest rates because manufacturers will self-finance in order to sell their equipment. And real estate that already has renters–especially long term renters– is an easy choice for lending institutions.
Are You a Whale?
If so, it would be beneficial for you to keep reading. If not, we have other articles that can provide you information on lower investment models.
Now, back to our whales.
We know you have capital to invest and resources to deploy. However, the difficult part is finding investments that are worth the money…
We hear you saying, "I'll look at anything that has the right return." But someone at your level doesn't want to quit your other investments to be the owner-operator of this one. You're looking for a qualified brand with track record, marketing support, and management support - that effectively helps you run the business.
The reality is, there aren't many franchises that do this.
Launch breaks that paradigm. This brand knows that their owners are major investors who have several other business interests as well. Because of this, they built the model to have most of the work done for you - everything from recruiting and marketing to a full time experience management team is available.
However, there's a cost. The investment ranges from $2,274,000 to $4,524,000. But even with a management team, there's considerable financial upside - in the written Financial Disclosure Document (FDD) you can see full financials broken down to bottom line as EBITDA. For example, the average sales volume for a Gen 2 Park is $2,554,996, as described in the Item 19 of their current FDD.
So, now that we've covered some of the high points, let's talk about why customers are flocking to these locations. And we say flocking - that's not an over exaggeration. That's the truth.
What's Launch's Big Appeal?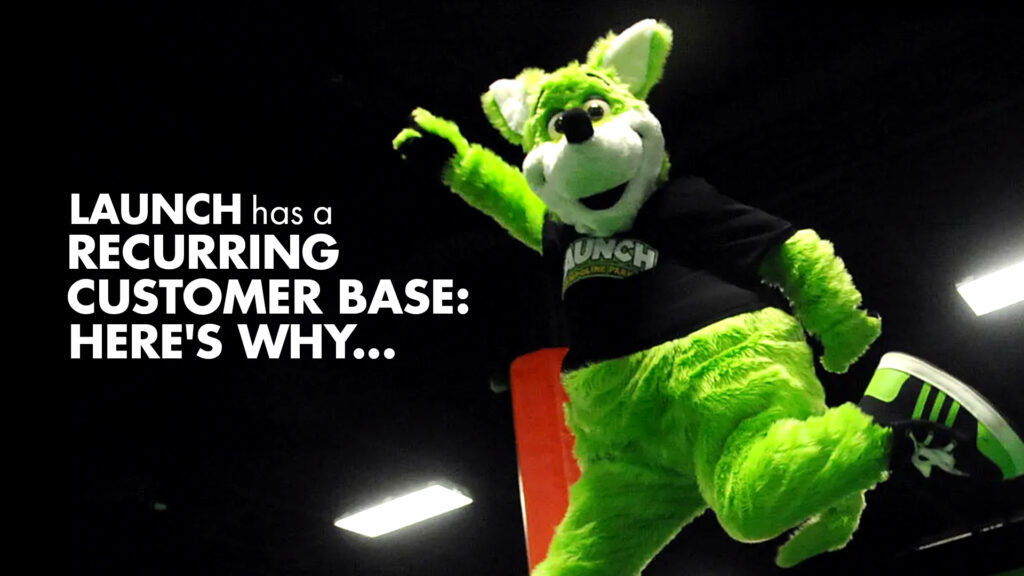 When people hear the words trampoline and park, their mind usually jumps straight to a place where kids go to play. However, the Launch Trampoline Park Franchise is somewhere friends and families–of all ages–get together for good food, fun, and exercise.
Launch is unique in that it doesn't offer just one thing. It's not only a trampoline park, an arcade, a bowling alley, virtual reality gaming, laser tag, jump basketball courts, a restaurant, or a bar- it's a destination that has it all and caters to every customer.
Have you ever been out with a group of people where everyone craves something different?
Whether it's a certain type of activity, restaurant, or entertainment - it can be challenging to find a place that meets everyone's needs. In addition, parents of young children often self-sacrifice their own preferences so their kids can have fun playing all day.
This is pretty common - and surprisingly, there aren't many places that take this stress off their customer's hands while also thinking of the parents. The places that do this, experience profound success.
This is where Launch jumps in. "You–and your group–are in control of your experience," because customers can design their day however they like, and there are options for everyone.
Happy Customers Impact Launch Owners. Here's How:
If you're considering investing in any business, it's important to put yourself in the shoes of your future customers. By doing so, you can begin to understand the appeal of the product or service you'll offer.
With Launch, it's clear - customers want to have fun with the people they love, while feeling like they're taken care of and that their experience is worth the time and money they're investing.
Since this brand does a great job taking care of its visitors, owners of the Launch Trampoline Park Franchise can expect something that's great for business - repeat customers and word-of-mouth marketing.
Marketing is expensive! In fact, it's one of the most expensive aspects of running a business - apart from facility costs and personnel. So, imagine providing an experience so good that you don't have to convince customers to come back…they just want to!
But happy, regular customers aren't the only perks of the business.
Five More Reasons the Smartest Investors Buy This Franchise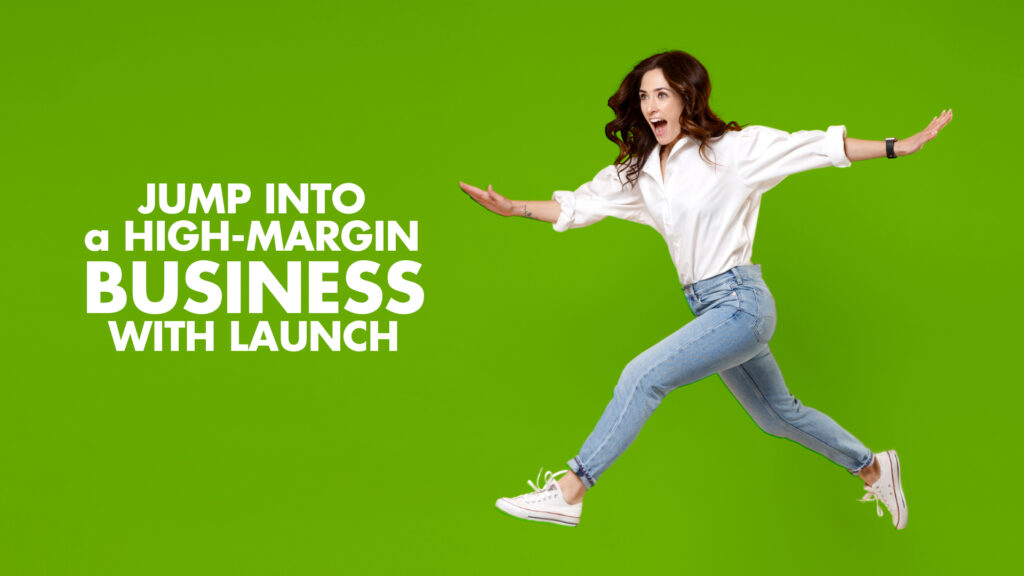 Launch is one of the fastest-growing family entertainment concepts in the US. Each location is a year-round park featuring giant trampoline jump surfaces, ninja style obstacle courses, climbing walls, laser tag, battle pits, bowling, and more - but that's what the customers get.
Here's what Launch offers its owners:
1. Strong Financials. Launch's financial track record speaks for itself, with franchise owners achieving actual net profits. We mentioned above that the average sales volume for a Gen 2 Park is $2,554,996. For investors, this means that the brand has a proven business model that generates consistent returns. By examining the Franchise Disclosure Document (FDD), potential owners can gain insight into the profitability of existing locations - our brokers can help you do this.
2. Equipment Model. With this brand's equipment model, you can take advantage of significant tax benefits. By depreciating the cost of Launch's equipment over several years, you can reduce your taxable income and lower your bill. This tax advantage translates to increased profitability, allowing you to reinvest in your business and expand your operations.
3. Repeat, Loyal Customers. By providing a fun and exciting experience, Launch has built a positive reputation that generates repeat business. The brand's focus on large groups and events provides a meeting place for families and friends, reducing the need for expensive marketing campaigns to attract new customers. This loyal customer base can lead to sustained revenue growth and long-term success, providing a solid return on investment.
4. Captive Audience. When it comes to captive audiences - think Disney and how people spend ALL day there. Disney makes their money through its merchandise, food, and beverage, because the longer the customer spends in the park, the more likely they are to continue purchasing goods. Launch is the same - people stay for hours and when kids fall into the 'fun-trance', they don't want to leave. This provides additional opportunities for sales, and the average revenue per person/ticket increases.
5. Low Liquidity Expansion. To expand a single franchise to multiple locations, you'll end up investing more money into the first location as it is a new loan, and you have not yet established yourself as a profitable business owner. However, for subsequent locations (2nd, 3rd, and so on), the down payment required for expansion is significantly lower. In fact, the cost on your 2nd unit can be as low as 10%, which is almost a 20% reduction from the 30% required for the original loan. By leveraging the success of your first unit, you can obtain lending opportunities for other locations - this means you're using other people's money to grow your wealth considerably.
And Here's Five More:
6. Diverse Revenue Streams. Launch Trampoline Park offers a variety of activities and experiences, including birthday parties, corporate events, teen nights, and more. This can help franchise owners generate revenue from multiple sources and reduce their dependence on any one thing - such as individual ticket sales and food and beverage purchases. In addition, Launch's arcade is a top revenue channel!
7. Strong Reputation. In an industry that is capturing people's attention - Launch Trampoline Park is fairly recognizable, with its 30+ locations across the United States and Canada. As a franchise owner, you would benefit from an established brand that already has consumer trust. This leads to attracting more customers and generating greater revenue.
8. Comprehensive Support. From initial training to marketing strategies, and assistance after launching - owners aren't facing the challenges of business alone. In fact, Launch has developed marketing programs that new owners can tap into to start generating business right away! This can be especially valuable for individuals who are new to the industry or who are new to franchise ownership.
9. Growing Industry. Trampoline parks have become increasingly popular in recent years, as people are looking for new and exciting ways to stay active and have fun. There's also a low number of competitors! This brand is a great potential investment, because the market has not yet reached its ceiling and there's definitely demand throughout the country.
10. Connect with the community. This brand is committed to supporting local communities and giving back through charitable partnerships and events. This can be a valuable selling point for franchise owners who are passionate about making a difference and providing a service that promotes a healthy, fun lifestyle.
Day in the life of a Launch Trampoline Park Franchise Owner
Want to know what a typical day looks like for owners of this franchise? Well, it depends on how invested you want to be in the business. There are a few options, but the most common types of owners are 'manage-the-manager' or fully passive.
Manage-the-manager type owners focus their efforts ON the business, rather than IN. They may meet with their chosen managers on a weekly basis to review store performance reports, discuss sales figures, customer feedback, and employee productivity. This provides an opportunity for the owner to share their expertise and provide guidance and support to their management team, rather than doing that work themselves.
On the other hand, fully passive owners are more like investors. They also hire a talented management team to oversee the operations, however, they spend even less time in and on the business. Oftentimes, fully passive owners are just looking for a safe place to put their money - something tangible and with promising returns.
Read our article on passive franchises here.
In rare cases, some owners prefer a hands-on management style. In this case, their typical day may involve working alongside their managers and staff, monitoring daily operations, ensuring quality control, and addressing any immediate issues or concerns of this business. They often spend time in the business, engaging with customers and motivating staff, or in the back office, reviewing financial reports and analyzing data to identify opportunities for improvement. However, this type of owner is not typical at Launch.
Regardless of which type you are, communicating with the franchisor, or franchise system, is something you'd do often. This involves discussions around revenue, cost savings, and marketing strategies to improve the overall performance of the franchise. At the end of the day, the franchisor is there to help owners run their business smoothly and profitably.
Ideal Buyers for this Business
Ultimately, this brand is searching for a WHALE. A high-net worth individual with at least $1,000,000 in liquid assets and a combined net worth over $2,00,000.
With the investment ranging from $3M to $5M - the barrier of entry is high. Not everyone can buy this business, but everyone wants to.
So for those who can, it's crucial to have a few qualities. Launch is looking for dynamic individuals who are well connected to their community and have a natural talent for building relationships. With excellent leadership skills, they'll be able to motivate their chosen managers to provide the top-notch customer service and experience that Launch is known for.
Launch owners are not running their business, they're overseeing it. Therefore, business acumen and vision is extremely important as well.
If this sounds like you, then Launch could be a good investment to consider!
FBA's Day Out at Launch
Want to read our testimonial on why we think buyers who fit the profile would be happy with their investment in Launch?
Every few months, our team plans an employee outing…
Remember when we mentioned how it can be challenging to find activities, food, and entertainment that suits all sorts of people and preferences? Well, this is an ongoing task for our staff, too!
The reason we know Launch is different from other entertainment centers is that our entire team spent the day at the trampoline park for our employee outing and there really was something for everyone.
We also learned aspects of the brand that you wouldn't know by searching online - such as the length of time people stay, the energy of the place, the kid:adult ratio, and much more. So, here's the breakdown of our experience (from the perspective of people who like to have fun and make good business decisions):
When our staff pulled up to our local Launch, in Orlando, FL–around noon on a Saturday–the parking lot was full and people were packing in the entrance. This is not uncommon when it comes to popular arcades and amusement parks - and it's easy for customers to feel overwhelmed from the start.

However, the huge interior allowed the crowd to spread out, and the process to buy tickets, sign waivers, and get checked-in was quick and effortless.

Now what? We all thought. There are so many options - from food and a full service bar, to laser-tag, axe throwing, bowling, ninja courses, trampolines, and more! There was a real buzz about the place, too. All of the event rooms were fully booked, so when large parties continued coming in, they spread out into the dining area and created this fun, energetic atmosphere for all to enjoy.

The truth is, we had only planned on staying for 2 hours, but ended up at Launch for over 4 hours! Turns out, customers tend to stay for half a day or more. With the option to play back to back games, time flies.

What we noticed was Launch is really smart in how they designed their activity flow. Groups book time slots for different attractions, and the staff spreads them out throughout the length of their visit. This means that guests stay for extended periods of time - and everytime they come back, customers can enjoy different activities!

So while we waited for our laser tag reservation, our group got involved in so many other activities - and with other groups too! People were playing games everywhere. There were tons of competitions and matches–such as pool, dodgeball, and basketball–happening all throughout the park. Other customers were coming up to our group trying to engage us to play!

This is unique because in a normal business, staff often struggle to engage customers to learn the services and get involved. But at Launch, everyone is involved in the fun.

Culture is the word of our era - and now your customers can add to this? That's rare.

In addition to all of this, there were so many more adults than we expected. We were surprised to see that there really were people of all ages… not just kids! Of course, different sections of the park cater to different age groups - but overall, there was a good mix all around.

And the last big thing we noticed was that Launch designs the games and arcade with adults in mind. Think about it - there are several arcades and entertainment centers that cater mostly to kids. The games are often small, outdated, and uninteresting to parents. But at Launch, it's different. Arcades always end up being one of the most profitable streams of revenue at places like Launch - and given it was located right next to the bar, meant parents could watch their kids and have a drink…it's a win-win.

Overall, our team was extremely impressed with Launch's facilities, staff, activities, and business model!
Ready to Jump into the Exciting World of Franchising?
The Launch Trampoline Park franchise is certainly not a business opportunity for everyone–unless you're a whale. But we do recommend anyone looking to invest in a high margin franchise should check this brand out and see for yourself why it's a place people will be flocking to for a long time to come.
To learn more about this brand, please visit our website at www.franchiseba.com or call us at (866) 395-4697.